Additive Manufacturing of Advanced Nuclear Fuels
S. Himmelstein | September 23, 2017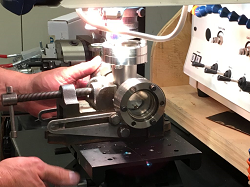 First steps toward the additive manufacturing of uranium silicide fuel. Source: INL
A new fuel manufacturing method provides scope for improving nuclear fuel cycle economics and delivering greater safety margins in off-normal situations. The U.S. Department of Energy's Idaho National Laboratory (INL) and industry partners are applying additive manufacturing technology to the production of uranium silicide fuel for advanced reactors.
Fuel fabricated by the Additive Manufacturing as an Alternative Fabrication Technique (AMAFT) features greater density and improved thermal conductivity when compared with traditional uranium dioxide-based fuels used in most current nuclear power plants. The hybrid additive manufacturing process combines some conventional and some additive manufacturing processes to reduce the number of steps required. Current methods require several steps to convert raw uranium ore into uranium hexafluoride and then again into the uranium dioxide that will be used in the final fuel for a light-water reactor.
The AMAFT process uses a hybrid laser engineering shaping technique to create a small localized melt pool from multiple powder sources, allowing the direct formation of a pellet of dense uranium silicide fuel. The method can be applied to any uranium-based feedstock, which opens up the supply chain and eliminates conversion steps. In addition, the team is working to make AMAFT easy to scale—which is another requirement for commercial viability.
The researchers have also accelerated the commercialization process by participating in DOE's Energy I-Corps initiative, a program intended to foster a more entrepreneurial mindset among researchers at DOE laboratories. The initiative pairs DOE researchers with industry mentors—in this case, participants from Westinghouse—as they work to refine their concept to support potential customers' specific needs.