Micro-reactor developer gains access to nuclear fuel supply
David Wagman | February 19, 2020
Idaho National Laboratory (INL) said it will provide Oklo Inc. with access to recovered fuel from nuclear waste materials to aid the company in its work to develop and demonstrate a small advanced fission reactor known as Aurora that can be used in remote or off-grid locations to generate power.
Oklo describes Aurora as an "advanced fission clean energy plant design developed to power communities with affordable, reliable, clean power." The unit includes a "fission battery" that uses metallic fuel. It can produce about 1.5 megawatts of electrical power and can also produce usable heat.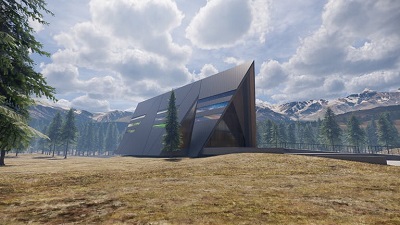 Concept design of the Aurora powerhouse, which is intended to include solar panels. The developer, Oklo Inc., will access HALEU fuel from the Energy Department's Idaho National Laboratory. Source: Oklo Inc.The national laboratory said that uranium recovered from used fuel will be downblended to produce "high-assay, low-enriched uranium," also known as HALEU. HALEU contains over 5% and less than 20% uranium-235, the fissile isotope in nuclear fuel that produces energy during a fission chain reaction. All 96 nuclear reactors currently operating in the U.S. use fuel enriched with less than 5% uranium-235.
Several U.S. companies are developing microreactor technologies that would use HALEU and need access to the fuel in order to demonstrate and prove designs.
However, there are no commercial facilities in the U.S. now capable of producing HALEU.
HALEU production
To address this, the Department of Energy (DOE) established a capability at INL to produce HALEU by processing and treating used fuel from the now-decommissioned Experimental Breeder Reactor-II. With this supply, INL can produce up to 10 metric tons of HALEU for research, development and demonstration purposes.
The DOE will retain ownership of HALEU during and after use, and the material will stay on the INL site. The finalization of access to the HALEU is pending a cooperative agreement between INL and Oklo on the use of the material for their microreactor demonstration.
Oklo reportedly has had pre-application activities under way with the U.S. Nuclear Regulatory Commission since 2016 for the Aurora design, and is preparing to submit its first license application. The company has previously received federal cost-shared funding for technology development through the DOE's cost-shared Gateway for Accelerated Innovation in Nuclear (GAIN) initiative.