Safer Uranium Extraction via Cluster Chemistry
Engineering360 News Desk | February 20, 2017
Oregon State University chemists used surfactants to extract uranium from an aqueous solution into a kerosene solution in the form of hollow clusters.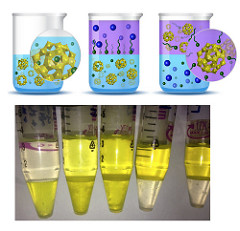 A diagram, top, and photograph show uranium clusters being extracted upward from an aqueous solution into a kerosene solution. Credit: Oregon State UniversityThis application of cluster chemistry could have implications for more efficient separation of uranium in nuclear fuel preparation, and for treatment of legacy waste and environmental contamination.
The research at involves a unique form of uranium discovered in 2005, uranyl peroxide capsules, and how those negatively charged clusters form in alkaline conditions.
When the clusters form, each contains 20 to 60 uranium atoms, enabling mass rather than individual ion extraction. Existing separation techniques require two extraction molecules for every uranium ion, but this approach requires less than one extraction molecule per ion.