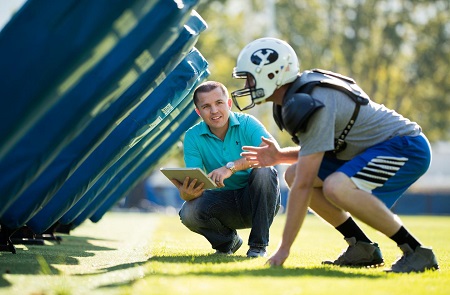 Smartform sensors are deployed in this football player's helmet and shoulder pads. Source: BYUThe American sport of football has come under scrutiny in recent years for its inherent dangers – head injuries, concussions, brain damage. One factor contributing to football-related injuries is that players, anxious to get back on the field, often do not realize just how badly they have been injured during an intense play.
Now, a nanocomposite smartfoam developed and tested by researchers at Brigham Young University (BYU) could help to measure those kinds of impacts.
With a name paying homage to football strategy sketches, the XOnano smartfoam is designed to be placed inside pads and helmets. It uses electrical signals to measure the impact of a hit in real time. Data can then be sent wirelessly to a coach or trainer on the sidelines, giving them the information they need to make sound decisions about player health.
"The standard measurement systems on the market today directly measure the acceleration, but [that ...] is not enough and can even be erroneous," said engineering Ph.D. student Jake Merrell, one of the developers of the new technology.
The form works by employing nanoparticles of nickel that rub against the foam, creating a static electric charge – similar to rubbing a balloon against hair. That charge is collected through a conductive electrode, measured by a microcomputer and transmitted.
Most significantly, the charge measurement represents a composite of acceleration, impact energy and impact velocity. According to Merrell's research, published in the Annals of Biomedical Engineering, impact severity and location of impact are thus able to be measured with 90 percent accuracy.
The impact sensing technology has already been incorporated into shoulder pads created by Merrell and Xenith; another company that produces tae kwon do vests has also begun using the smartfoam for training and fight scoring.
Merrell worked with BYU's mechanical engineering, exercise science and statistics departments to develop the smartfoam.