Collaborative Robots Play Nice on the Plant Floor
Winn Hardin | March 03, 2015
Designed to safely share the same workspace as humans, a new class of industrial robots known as collaborative robots is targeting manufacturing applications that once were considered too low-volume or low-tech for robotic automation.
These machines — which perform everything from basic repetitive tasks to detailed assembly operations — don't require the costly safety features of their bolted-down counterparts. But they do come at a cost of power and speed.
IHS estimates that the industrial robotics sector was valued at approximately $9.5 billion in 2013, with more than 200,000 robots sold during the year. (Also see "A New Face for Robotics.")
In response to growing demand for collaborative applications that pair machines and humans for a single purpose, suppliers of collaborative robots are addressing the regulatory, technical and business challenges facing this new asset class. Manufacturers of traditional industrial robots, meanwhile, are responding with new collaborative capabilities of their own.
What Makes a Robot Collaborative?
The latest version of U.S. national robot safety standard ANSI/RIA R15.06-2012, which was updated in 2013, defines collaborative operation as "the introduction of a worker to the loop of active interaction during automatic robot operation." The standard now covers systems that allow a human operator to load, unload or manually drive a robot in a manufacturing facility.
The ANSI standard addresses four modes of human-robotic collaboration. Source: Yaskawa.The ANSI standard addresses four modes of collaboration: stopped-state monitoring, in which the robot stops when a human enters its space but retains its drive power and resumes working when the person leaves; speed and separation, during which the robot drops to a safe speed or stops altogether if the user gets too close; hand guiding, in which the operator manually guides the robot or selects a part; and power and force limiting (PFL), in which the force a robot exerts on its environment is limited.
The first three modes all use safety-rated sensors and involve collaboration through control. The safety standard means that "traditional" robot manufacturers such as Yaskawa, ABB and FANUC all qualify as collaborative, says Erik Nieves, technology director for Yaskawa America Inc.'s Motoman Robotics Division in Ohio.
Using a safety-rated sensor means an operator and robot can safely work in proximity and share the tasks. This allows the robot to perform power and precision tasks "while the operator does the critical work of final adjustment, quality control and so on," Nieves says.
In the fourth mode of collaboration, PFL, the operator and robot each may perform independent tasks within the collaborative space. In fact, they may work so closely together that they may come into contact. Limiting the robot system's force and power reduces the ill-effects of accidental interaction.
Flexing Robotic Muscles
It is within the PFL category that a new group of collaborative robot manufacturers is starting to make its presence felt. "Collaborative robots are adding a level of flexibility that allows small and medium-sized companies to take advantage of automation," says Edward Mullen, national sales manager for Universal Robots USA in East Setauket, N.Y.
Typically equipped with a payload of 15 kg or less, these robots are suitable for short, repetitive tasks such as pick and place. Some units also are capable of machine tending, fine assembly, and quality inspection.
Low payloads would be a problem for traditional robotic workcells, but the capabilities of low-payload collaborative robots are expanding the application base for robotic automation.
In 2013, Adept Technology of Pleasanton, Calif., introduced its Adept Lynx Semi Handler to improve the productivity of older semiconductor fabs that use less automation than today's fabs. The robot — which combines the company's Lynx autonomous intelligent vehicle as its base with a collaborative 4-axis robot situated atop it — targets 200-millimeter wafer fabs.
"There's still a lot of manual handling of wafer pods, where they are lifted, picked, placed and transported by humans," says Terry Hannon, chief business development and strategy officer for Adept Technology. But because people are people, errors can occur in this process. The robot maneuvers around the fab, picking up and transporting pods. It requires no input from humans; instead, the robot receives commands from software that controls process flow.
Universal Robots is taking a different approach to putting humans in the operational loop and out of the design loop. The company's force-limited, industrial-rated collaborative robot arms — the UR 5, which has a payload of 5 kg, and the UR 10, with a payload of 10 kg —were designed to reduce or eliminate the need for system integrators to field the robots.
"You can essentially have that robot out of the box and up and running in a matter of hours," Mullen says.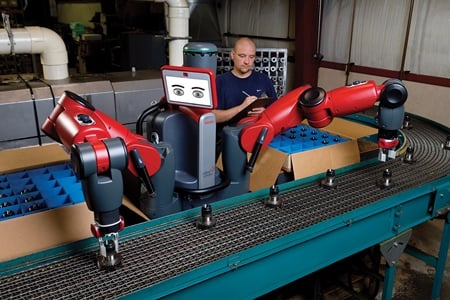 Humans train Baxter for a variety of tasks on the factory floor. Source: Rethink RoboticsRethink Robotics' collaborative robot, named Baxter, also focuses on easy use and integration for the operator. In-house personnel manually train the robot for the tasks it will perform; it also can be retrained and deployed for a variety of jobs across the factory floor.
Intera 3, the most recent version of Baxter's software platform, allows the unit to perform with more than double the speed, precision and motion quality of its flagship version that launched in 2013.
Traditional robot manufacturers also are starting to look at the possibilities of PFL units. ABB for one will commercially launch its YuMi (a play on the words "you" and "me") collaborative robot in April at the Hannover Messe industrial technology fair in Germany. Designed to work hand in hand with humans on the same tasks, the dual-arm unit has been developed initially for the consumer electronics industry. ABB plans to roll out YuMi to other sectors as well.
Limitations in Collaboration
Like any developing technology, collaborative PFL robots have their drawbacks.
"By the very nature of collaborative robots, the speed is always going to be a limitation," Hannon says. Standard industrial robots perform tasks at high speeds and throughputs. What's more, many of today's force-limited robots cannot provide the accuracy required by applications such as electronics assembly.
Universal Robots' Mullen acknowledges that its UR robot arms, which offer a repeatability specification of +/-.004 inch, don't have as much higher-end processing power as larger traditional robots, "nor do we get into a lot of the high-level kinematics." Rather, the company's goal is to open up applications that could neither be done nor justified with traditional robots — a refrain repeated by other manufacturers that have deployed collaborative PFL robots.
The robot safety standards for all robots collaborative or otherwise require that each application undergo a risk assessment to ensure user safety. Nieves says challenges exist for PFL robots in this regard. For those collaborative operational modes that use safety-rated sensors, Nieves says the risk assessment comes down to two metrics: the robot stopping distance and the sensor safe-distance calculation.
Risk assessment for PFLs, on the other hand, is more involved. The International Organization for Standardization (ISO) is finalizing its technical specification, TS 15066, which will provide additional guidance on the safe deployment of collaborative robot operations. The standard will require the user/integrator to consider which body parts are at risk of collision, frequency and the severity of possible collisions.
The standard also will have a chart with various body parts and the thresholds for onset of pain and injury. All of this must be accounted for before the robot may join the production line.
"Many users find this process to be overwhelming and a limitation for the implementation of PFLs," Nieves says.
More Capabilities
Despite the drawbacks, collaborative robots are beginning to usher in the next generation of industrial automation. Nieves expects that 2D laser scanners or light curtains will be replaced by safety-rated 3D volume scanners that can more completely monitor the location and proximity of multiple humans within the robot work area. He also expects that other sensors will be embedded on the robot surface and act as a reactive "skin" to warn of imminent collisions.
On the PFL side, Adept's Hannon says that the merging of mobile robots with multiaxis robots will become more prevalent. So will the convergence of other technologies to improve overall performance.
As 3D machine vision matures and its cost drops, and as gripping technology improves, Hammon says, "we will see robots that have a lot more capabilities than they do right now in a collaborative space."