Collaborative robots to pick, handle and transport large payloads
Marie Donlon | August 08, 2022
Researchers from Northwestern University have developed a team of mobile collaborative robots capable of assisting humans with the picking up, handling and transporting of heavy, flexible and delicate payloads in the manufacturing, warehouse or construction spaces, for instance.
The so-called Omnid Mocobots, which feature a mobile base and robotic arm, are designed to safely collaborate with each other as well as with humans to complete straining manual tasks.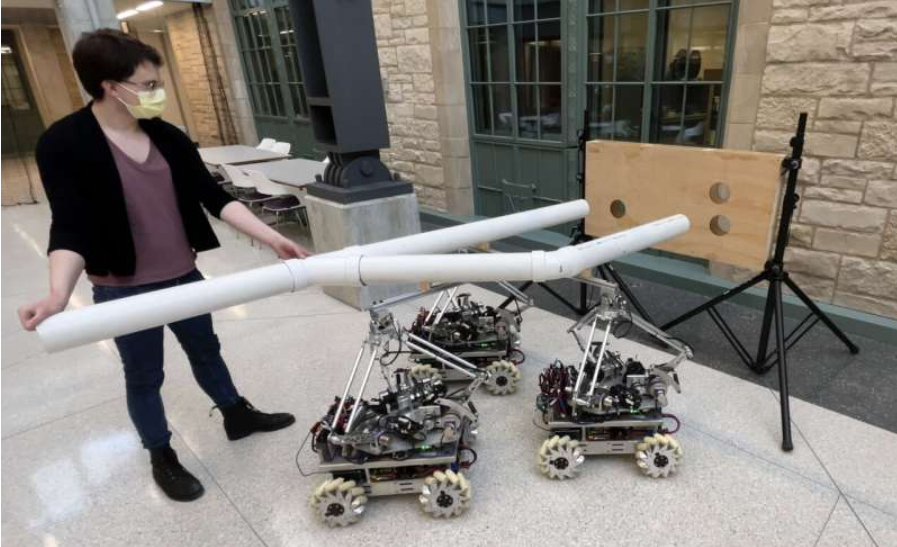 Source: Elwin et al.
Setting this group of robots apart from other collaborative robots, according to the Northwestern team, are three features that enable the cobots to work in close contact with humans.
"Firstly, the robot arms have built-in mechanical compliance," the researchers explained. "This 'softness' means that the robots are safer for human interaction and are less likely to damage the object compared to typical robot arms. Second, the robot arms are designed to precisely control forces at their grippers, unlike most industrial robot arms. Third, the control laws governing the mobile base and manipulator are designed to allow teams of Omnids to cooperatively render a large object weightless to the human collaborator."
Following a series of successful tests wherein Omnid Mocobots were used to transport large payloads, the researchers envision that Omnid Mocobots of the future will be capable of transporting even heavier payloads to assist humans with the assembly of large structures such as wind turbine blades.
The robots are detailed in the article Human-multirobot collaborative mobile manipulation: the Omnid Macobots, which appears in the journal arXiv.