Move Over, Boaty. Trainy is Full-steam Ahead
S. Himmelstein | July 24, 2017
The Something McSomethingface naming trend is alive and well in Sweden.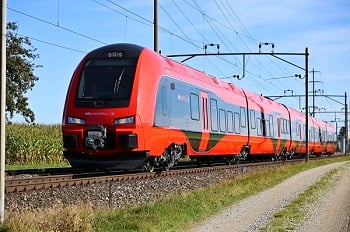 Image credit: MTR Express
Rail operator MTR Express, along with a Swedish newspaper, held a contest to name a new fleet of commuter trains. The name that received 49 percent of the vote was Trainy McTrainface.
Obviously, the voters were inspired by a competition held by the UK Natural Environment Research Council to name a new polar research vessel. The overwhelming winner of that event was Boaty McBoatface, but the council over-ruled the vote and christened the vessel with a perhaps more dignified but less descriptive name: RRS Sir David Attenborough. However, the ship's research submersible is now bearing the popular Boaty appellation.
In Sweden, however, the peoples' choice appears to have full support. MTR Express has promised the name Trainy McTrainface will stay on track. Trainy will operate between Stockholm and Gothenburg. No word on where Glenn and Estelle, two other new trains, will travel.