Boaty McBoatface as a Sentinel of Safe Seabed Carbon Storage
S. Himmelstein | March 13, 2018
Research conducted by the Energy Technologies Institute (ETI) has identified no technical hurdles to permanently and safely storing large quantities of carbon dioxide off the UK coast. There is also the potential that these sites in the North Sea could be developed to provide a CO2 storage hub for CO2 emissions from mainland Europe, enhancing their economic attractiveness.
In accord with an EU directive, storage operators must monitor for potential leaks and examine whether any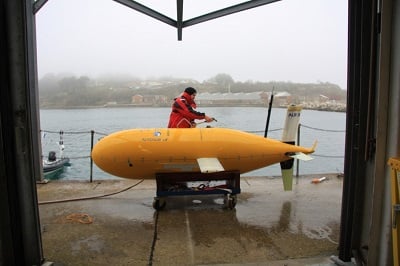 Mr B McBoatface prepares for his mission to follow a CO2 pipeline. Source: The Engineerleak is damaging to the environment or human health. ETI and project partners intend to comply by developing a monitoring system which could be deployed using static monitoring equipment and marine robotics such as autonomous underwater vehicles (AUVs).
Researchers sought an alternative to labor and cost-intensive short-range AUVs or towed equipment launched from ships with a focus on mobile, long-range autonomous robots for patrolling over large areas at relatively low cost. Existing AUVs can only be deployed for a few days at a time, unlike the National Oceanography Centre's (NOC) Auto-Sub Long Range (ALR) – also known as "Boaty McBoatface" -- which has a deployment time measured in thousands of kilometers and weeks at sea.
Since the device, which is carried on the research vessel RRS Sir David Attenborough, can collect data for weeks at a time, a better-informed analysis of any unusual readings can be made. This innovative system can be controlled and monitored by shore bound staff and can follow a CO2 pipeline from shore to a storage site, patrol the store and return.
Harbor and sea trials confirmed that the combination of the ALR and fixed monitoring landers, located on the seabed, fitted with a suite of acoustic and chemical analyzers which communicate via satellite back to the shore analysis facility, works particularly well. The combined robotic and static monitoring equipment provides a cheaper, safer and potentially more reliable system than if ships were used.
The AUV platform can be deployed to identify existing seeps, analyze natural variations in seawater composition and document other baseline environmental data before the site is used commercially. After a store is full, continued monitoring will assist the operator to demonstrate that the CO2 has been safely stored, and in the long-term hand the site over to a competent authority.