Video: Ocean warming data from Boaty McBoatface's first mission
S. Himmelstein | June 19, 2019
Data collected during September 2017 by the Autosub Long Range, less formally known as Boaty McBoatface, on its first research mission provide evidence of a correlation between strengthening Antarctic winds and rising sea temperatures.
The autonomous submarine tracked parameters of a major abyssal boundary current in the Southern Ocean,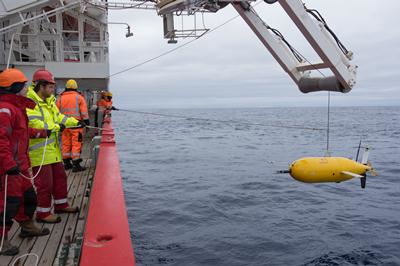 Boaty being deployed for the mission. Source: Polv Abrahamsen/British Antarctic Surveyusing an echo sounder to navigate to depths of over 13,000 feet (4000 m) and relying on Doppler current profiling instruments and other sensors to document water turbulence, salinity and temperature.
In recent decades, ozone depletion over Antarctica has combined with increasing greenhouse gas levels to strengthen winds, but data from the submarine has revealed a mechanism that allows these winds to increase turbulence below the ocean surface, causing warmer water from the mid-marine column levels to mix with far colder water deep in the abyss.
This near-seabed warming phenomenon is identified as contributor to rising sea levels but is a mechanism not yet incorporated into models developed to predict the impact of global temperature increases on oceans.
The sub operated in tandem with the research vessel RRS James Clark Ross. Its original partner, RSS Sir David Attenborough, is currently undergoing sea trials ahead of its active service.
The research conducted by scientists from British Antarctic Survey, National Oceanography Centre (U.K.) Southampton University, Stanford University, Princeton University and Woods Hole Oceanographic Institute is published in Proceedings of the National Academy of Sciences.