Watch the Launch of the RRS Sir David Attenborough
S. Himmelstein | July 18, 2018
The Royal Research Ship (RRS) Sir David Attenborough, the largest civilian ship to be built in the U.K. in 30 years and less formally known as Boaty McBoatface, was officially launched into the River Mersey on July 14.
The renowned naturalist and broadcaster Sir David Attenborough pressed the launch button together with British Antarctic Survey Director Professor Dame Jane Francis.
Once in the River Mersey, the hull was towed to Cammell Laird's shipyard's wet basin where the ship will undergo the next stages of construction before entering operation in 2019.
The 129-meter Rolls Royce-designed vessel was commissioned by the Natural Environment Research Council to be operated by the British Antarctic Survey. The £200 million research ship is part of a government polar infrastructure investment program designed to keep the U.K. at the forefront of Arctic and Antarctic research.
Onboard equipment will enable more ambitious expeditions and deploy advanced marine robotics to help researchers explore hard to reach polar areas. Once completed, the vessel will be capable of spending 60 days at sea without resupply, and with a range of over 35,000 km. The ship will also be equipped to break ice to a thickness of 1.5 m due to its unique hull design, the integration of the propeller and rudder with the hull, and the use of powerful and efficient Bergen B33:45 engines.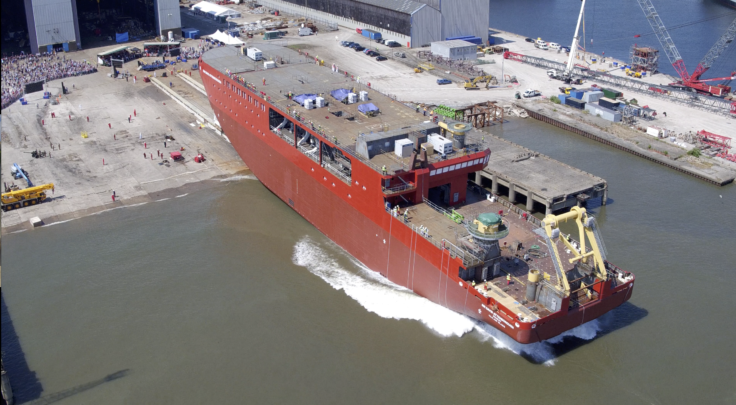 The 10,000 ton hull of the RRS Sir David Attenborough glides in to the water for the first time. Source: British Antarctic Survey