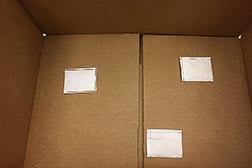 Chlorine dioxide pouches placed inside fruit-packing cartons kill pathogens but don't damage fruit. Image credit: Jinhe Bai/ARSContracting E. coli from poorly washed fruits and vegetables may be a thing of the past thanks to scientists from the Agricultural Research Service (ARS), in collaboration with Worrell Water Technologies, who created a pathogen-fighting pouch designed to safely treat the surface areas of fruits and vegetables.
The inexpensive pouch, which releases chlorine dioxide gas eliminating E.Coli and other illness-causing pathogens from fruits and vegetables, is made up of a semi-permeable membrane that allows for a controlled venting of the gas.
To determine its effectiveness, researchers added the pouches to cartons of grapefruit. They found that the grapefruit had 10 times fewer pathogens than the grapefruit stored without the pouches. Additionally, researchers found that the addition of the pouches did not affect the appearance or taste of the treated produce.
While Worrell Water Technologies looks to market the product to produce wholesalers in the United States and overseas, researchers continue to look at the effectiveness of the pouch in treating other fruits and vegetables.