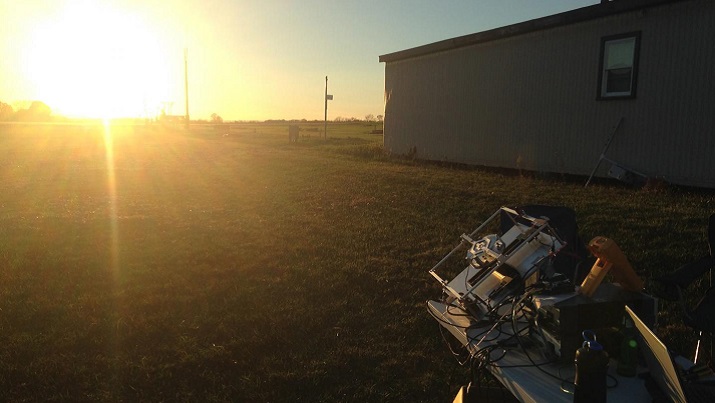 The CPV system operating near sunset. (Credit: Giebink Lab)A head-to-head competition between standard silicon solar cells and a concentrating photovoltaic (CPV) system with embedded microtracking has resulted in a win for the latter. A team of engineers that tested a prototype unit have reported more than 50 percent greater energy production for the CPV system.
Silicon solar panels currently dominate the market, but are only 15 to 20 percent efficient. CPVs focus sunlight onto smaller cells, like those used on satellites, producing an overall efficiency of 35 to 40 percent. So what's the catch? Current CPV systems are as large as billboards, and have to rotate to track the sun. They work best in open fields with abundant space and lots of sun.
It's a limitation that researchers from Penn State are working to surmount. By embedding tiny multi-junction solar cells into a sheet of glass, they are able track the sun by sliding the sheet laterally between a pair of plastic lenslet arrays. The panel remains fixed on the roof, and tracking an entire day of sunlight requires a nearly-imperceptible movement of about one centimeter.
"What we're trying to do is create a high-efficiency CPV system in the form factor of a traditional silicon solar panel," said Penn State Electrical Engineering Professor Chris Giebink. "We put together a prototype with a single microcell and a pair of lenses that concentrated sunlight more than 600 times, took it outdoors and had it automatically track the sun over the course of an entire day."
According to the researchers' report in the journal Nature Energy, the CPV system produced 54 percent more energy than the silicon -- and could have reached 73 percent if microcell heating from intense sunlight were avoided.
Giebink believes that the embedded tracking CPV technology would be perfect for places like the southwestern United States or Australia, where there is an abundance of direct sunlight. Scaling the system to larger areas and proving its long-term reliability are challenges that remain to be addressed.
"With the right engineering, we're looking at a step-change in efficiency that could be useful in applications ranging from rooftops to electric vehicles -- really anywhere it's important to generate a lot of solar power from a limited area," he said.