Risky Rice
Marie Donlon | June 27, 2017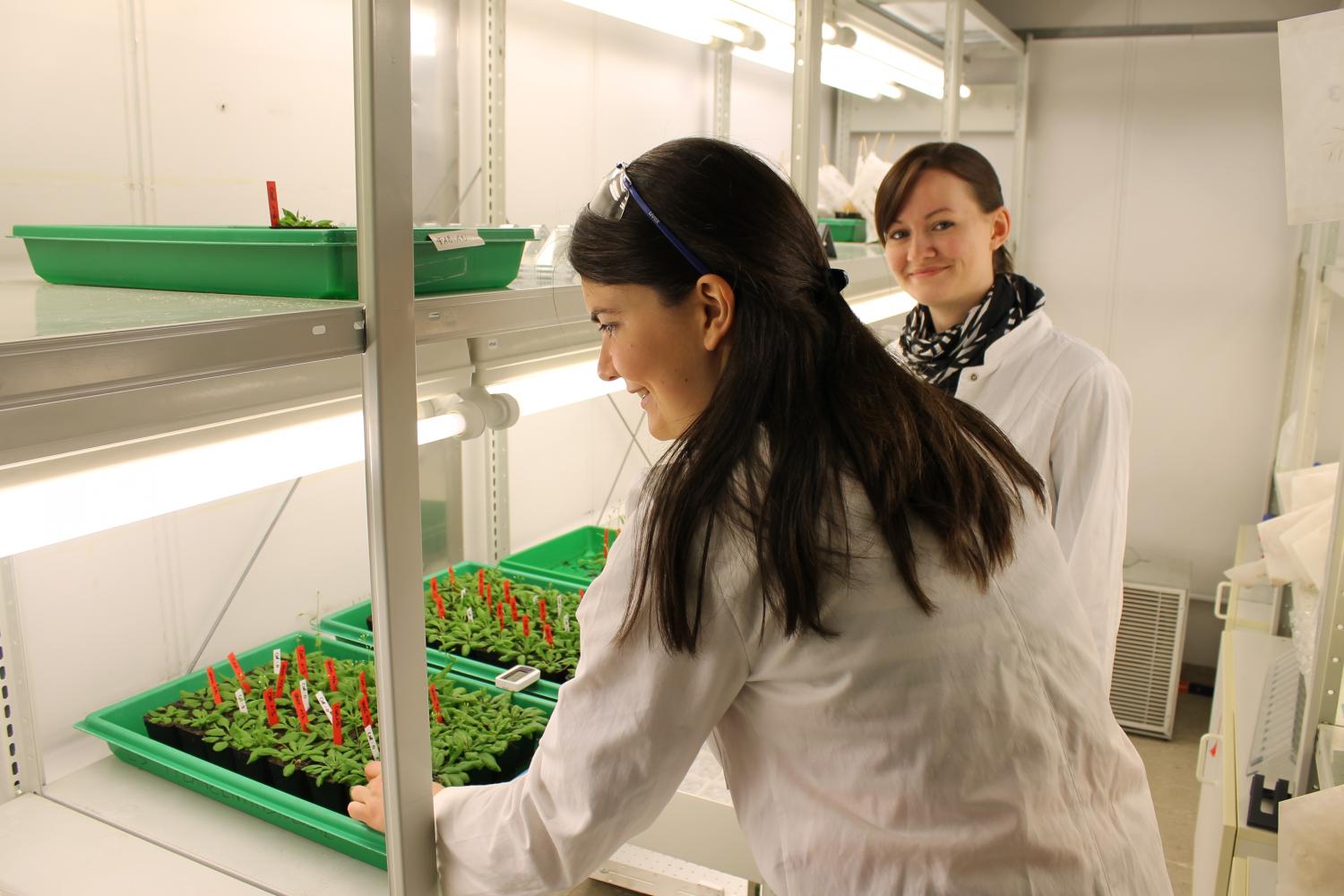 Doctoral researchers in Bayreuth Carolin Kerl M.Sc. (left) and Colleen Rafferty M.Sc. (right) are investigating the absorption of thioarsenates in the thale cress (Arabidopsis thaliana). Image credit: Christian WisslerResearchers at the University of Bayreuth have discovered arsenic compounds in connection with chemical analyses of rice — a dietary staple in many regions of the world — that may present increased health risks to humans consuming the popular food.
Publishing its findings in the journal Environmental Science and Technology, the researchers are concerned with the presence of thioarsenates (compounds made of arsenic and sulphur) in rice fields. Found in groundwater, surface water and bottom water with high levels of sulphide (the reduced form of sulphate), the thioarsenates are formed from sulphide spontaneously reacting to arsenic. According to researchers, rice fields present the perfect conditions for such a reaction.
"Rice is usually grown on flooded fields. The resulting lack of oxygen in the ground can reduce sulphate to sulphide. We were able to demonstrate for the first time that a considerable amount of the arsenic in rice fields — namely 20–30 percent — is bound up in the form of thioarsenates," explained Prof. Dr. Britta Planer-Friedrich, Professor of Environmental Geochemistry at the University of Bayreuth. "Further research to shed more light on the spread of thioarsenates is now even more urgent since we were able to show for the first time that thioarsenates can be absorbed by plants and are harmful to them."
In the experiments conducted at Bayreuth, researchers found that plants used in the study that absorbed the arsenic-sulphur compounds demonstrated limited growth.
"In the wake of these unsettling findings, we plan to investigate the effects of thioarsenates on different types of rice over the next several months. At present, we do not yet sufficiently understand whether or not and to what extent rice plants absorb the arsenic that bonded with sulphur and to what extent this adversely affects their metabolic processes. Above all, it is unclear whether thioarsenates also make their way to the rice grains," explained plant physiologist Prof. Dr. Stephan Clemens.
He added, "At the University of Bayreuth, we have all the research technology necessary to see these experiments through. If it turns out that thioarsenates are absorbed by the roots of the rice plants and make their way to the rice grains unaltered, then further research will be needed. In particular, we would need to clarify whether thioarsenates are toxic for humans who consume food containing rice over an extended period. What's more: in addition to the previously known forms of arsenic, thioarsenates must be considered in the future when developing rice plants that accumulate less arsenic in their grains. This is an objective currently being pursued by numerous research groups around the world."
"Not only the EU, which has had a limit for arsenic in rice since 2016, but above all countries in Asia and Africa – where yearly rice consumption can be well above 100 kilograms per person – should be following rice research closely with an eye to amending their food safety regulations. Traces of arsenic are also found in drinking water and other types of food. These trace amounts can add up to a daily dose representing a health risk that is not to be underestimated," Prof. Planer-Friedrich said.