Reining In Agri Runoff Pollutants with Rice
S. Himmelstein | December 07, 2018
Agricultural runoff is a major source of pesticides, fertilizers and nutrients delivered to waterways worldwide.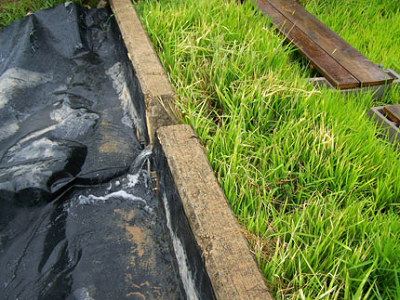 Runoff exiting an experimental system planted with rice is collected and stored in a catchment basin for further analysis. Source: Matt Moore, USDAMany preventive measures have evolved to address this pollution problem, including the use of cover crops, conservation tillage and botanical buffers.
A cost-effective and simple corrective system explored by U.S. Department of Agriculture (USDA) researchers is based on the cultivation of a crop grown globally: rice. Test fields planted with and without rice were flooded with a pesticide-water mix simulating storm runoff. Concentrations of atrazine, diazinon and permethrin declined by 85-97% in rice-planted fields, attributed to sorption by the plants and sediment, at the end of the two-year study.
The researchers suggested that operators could harness the phytoremediation powers of rice by planting the crop in drainage ditches or by managing rice fields as constructed wetlands. Future studies will determine whether the agrichemicals bioaccumulate in the edible rice grains.
The study results are published in the Journal of Environmental Quality.