Cellulose Microbeads Reduce Plastic Waste in Rivers and Oceans
Nancy Ordman | June 09, 2017
Microbeads made from cellulose can replace their plastic counterparts, preventing tons of waste plastic from entering inland waterways and the world's oceans. The manufacturing process is scalable, and the product can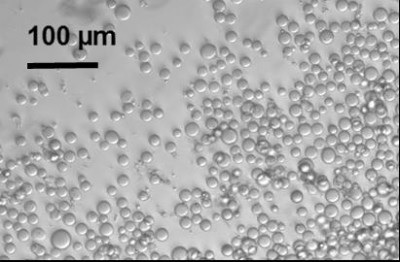 Microbeads micrograph with scale Microscope picture of cellulose microbeads. Credit: University of Bath use waste cellulose, making it feasible for industrial adoption.
Plastic microbeads turn up in many personal care and cleaning products, from toothpaste to sunscreen, to improve the products' texture. The spheres are so tiny—less than 0.5 mm diameter—they slip through water treatment filters and end up in rivers and eventually oceans. The beads account for eight million tons of waste plastic per year dumped in oceans. Fish and wildlife ingest them, harming the animal and ending up in the human food supply.
Manufacturers need a replacement, and quickly. At least two countries have banned the beads. The UK's ban takes effect this year. Although less restrictive, the US ban was implemented in 2016. Australia is contemplating a ban.
Scientists at the University of Bath's Centre for Sustainable Chemical Technologies make the beads by forcing a cellulose solution through a tubular membrane, which creates the tiny spheres, and then washing the beads away with vegetable oil. After the beads set, the oil is removed. Tweaking the cellulose solution and the membrane allows the scientists, or a manufacturer, to customize beads.
The beads perform the same function as their plastic counterparts. After the beads enter the water purification system, bacteria in sewage treatment plants decompose them.
The research team is actively working with industrial partners to produce beads for specific applications. The UK Engineering & Physical Sciences Research Council has provided £1 million for further research.