Researchers combine starch, cellulose for biodegradable plastic
Marie Donlon | March 25, 2020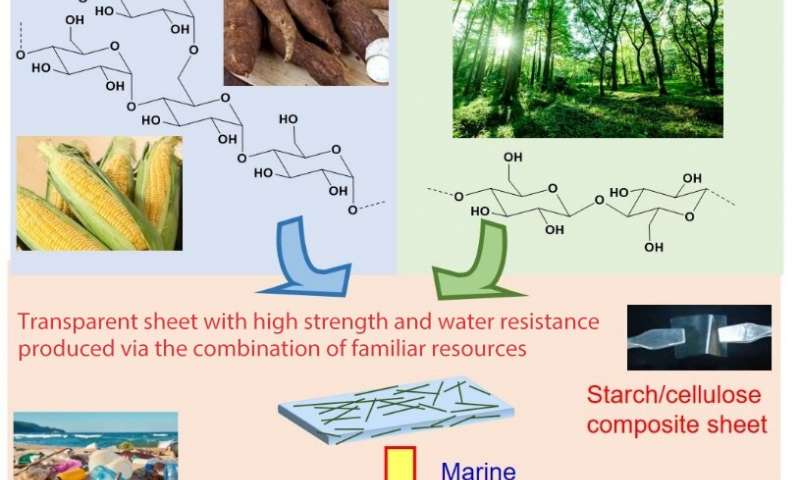 SOurce: Osaka UniversityA research team from Osaka University in Japan has developed a bioplastic that degrades in seawater amid a growing plastic waste crisis impacting the world's oceans.
To create the material, the research team combined starch, the primary component of carbohydrates, and cellulose, which is derived from plants. Through a technique devised by the researchers, the starch was transformed into a high-strength, extremely water-resistant sheet material that, combined with the cellulose, biodegrades in seawater.
Although biodegradable alternatives to plastic have already been achieved in other parts of the world, these materials are reportedly of lesser quality than their standard consumer plastic counterparts. Likewise, they are more expensive than standard plastic and they are not mass producible, unlike the material developed at Osaka University.
According to researchers, the Osaka material is easy to manufacture and includes inexpensive materials, making mass production more affordable. The researchers believe that their starch and cellulose derived material will not only solve the issue of plastic waste in the world's oceans but will also help cut greenhouse gas emissions.
The Osaka University marine biodegradable plastic is just the latest in a number of attempts to develop plastic alternatives for solving the world's plastic waste crisis. For instance, a tech startup in Ontario, Canada, is using sawdust to use manufacture plant-based plastic bottles while a professor from Singapore's Nanyang Technological University has developed a biodegradable food wrap plastic alternative derived from soybeans. Similarly, a London-based startup is turning lobster shells into a plastic alternative.