Drone Traffic on the Rise in Canada
Marie Donlon | June 06, 2017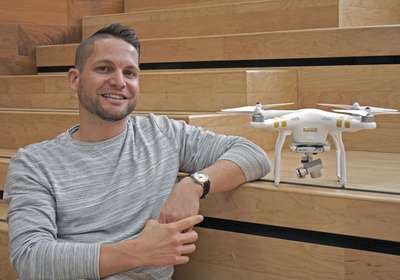 Geography doctoral student Paul Nesbit has led a study on how the proliferation of drones in Canadian airspace is causing new safety concerns. Image credit: Paul Nesbit
With drone traffic on the rise in Canadian airspace, so too are the number of drone incidents being reported in recent years, sparking safety concerns.
According to a study from the University of Calgary, between 2005 and 2016, 355 drone incidents were reported to the Transport Canada Civil Aviation Daily Occurrence Reporting System (CADORs) database (with a significant increase occurring after 2013 when drones became readily available to the public)—22.3 percent of which were encounters between drones and manned aircraft.
"Drone use has skyrocketed, and with that comes new potential safety concerns," says geography doctoral student Paul Nesbit, who led the study, along with co-authors, associate professor Chris Hugenholtz and research associate Thomas Barchyn. "The spike in incidents seems to correlate with the proliferation of consumer drone technology, which is affordable and requires virtually no training to operate."
Although popular with hobbyists for decades and with fewer reported incidents, drones are now being used by a number of unskilled handlers.
"The potential problem with the rapid rise of drones is that the technology is now accessible to people who may not be aware of, or who choose to ignore Canadian airspace regulations," adds Hugenholtz. He also notes that the nature of the incidents uncovered in the study points to drone operators who are unlikely to hold drone certifications from Transport Canada or have training in airspace regulations. "These individuals could damage Canada's nascent drone industry," Hugenholtz says.
In an effort to address these safety concerns, Transport Canada has created new guidelines that will detail drone regulations, in addition to establishing fines for those who ignore the new regulations. Additionally, a new online system has been developed allowing people to anonymously report unsafe drone activity.
Also concerned about airspace safety, drone manufacturers have added geo-fencing features to some drones, preventing users from flying drones in restricted airspace.
"This study confirms anecdotal evidence from a growing number of media reports suggesting a rise in drone incidents in the last few years," says Hugenholtz. "Our results speak for themselves—drone incidents increased up to the end of 2016. However, there are a growing number of educational, regulatory and technology-based solutions emerging that we believe will reduce drone incidents moving forward."