The number of incidents involving recreational drones in Canada has more than tripled since 2014, prompting Marc Garneau, Canadian Minister of Transport to introduce a measure to prevent what the ministry calls "the reckless use of drones that is putting the safety of Canadians at risk."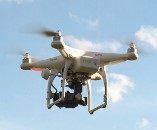 Recreational drone pilots in Canada face new rules.Garneau announced in mid-March a measure which will affect the operations of model aircraft and recreational drones of more than 250g and up to 35 kg.
(Read "FAA Finalizes First Operational Rules for Commercial Drones.")
Drones will no longer be allowed to fly higher than 90 meters (295 feet), within 75 meters (245 feet) of any buildings, vehicles or people, or within 9 kilometers (5.6 miles) of airports.
Violators are subject to a fine of up to C$3,000 ($2,251), and up to C$15,000 ($11,256) for corporations.
Operators of drones for commercial, academic or research purposes are not affected by this measure, the ministry says. The rules that are already in place are effective and most commercial users operate their drones in a safe manner, a statement says.
More information is available at the Transport Ministry's drone web site.