Video: DroneGun jams UAVs to prevent attacks
Peter Brown | January 08, 2019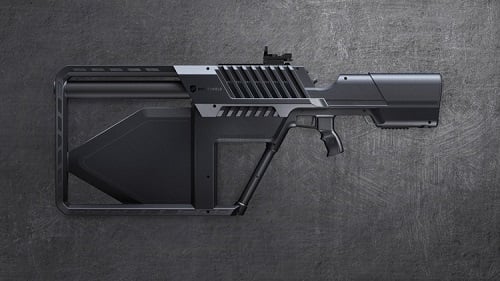 The jammer is a safe countermeasure to drone dangers. Source: DroneShieldDroneShield believes it has a drone deterrent called DroneGun Tactical, a portable, rifle-shaped jammer for military and commercial use.
The company said DroneGun Tactical provides a safe countermeasure against a wide range of drone models and safely manages drone payloads, including dangerous ones like explosives, with no damage to the drone or environment. The jammer forces a controlled vertical landing or returns the drone back to its starting point.
The drone countermeasure has a range up to 1 km, is battery powered and requires no training to operate, DroneShield said. The rifle jammer ceases video transmission to the drone operator, simultaneously operates on multiple RF frequency bands and has an optional global navigation satellite system (GNSS) disruption capability.
With a growing number of drone incidents and drone threats to the public, the counter-drone market is heating up in conjunction with the growing consumer and military drone market.
Among those drone incidents is a recent scare at England's Gatwick Airport, where a number of drones flying near the runway shut down the airport for two days, leaving 1,000 aircraft grounded and affecting about 140,000 passengers.
The dangers of drones colliding with airplanes has yet to be fully realized and some experts are examining what might happen. Mid-air collisions need to be taken seriously, given how drones have been used as weapons against military in the Middle East.