Horizontal Pump Installation for More Versatility
S. Himmelstein | June 01, 2017
A new compact high-pressure Movitec pump introduced by KSB Aktiengesellschaft (Frankenthal, Germany) is designed for horizontal installation.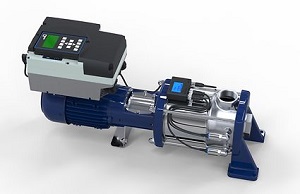 Movitec H(S)I equipped with KSB SuPremE IE5 motor, PumpDrive 2 variable speed system and PumpMeter monitoring unit.(© KSB Aktiengesellschaft, Frankenthal)Rather than being arranged in-line as common for this type of pump, the suction nozzle and discharge nozzle are arranged at a 90-degree angle which is more common for process centrifugal pumps. The discharge nozzle can be arranged on the left, on the right, or at the bottom, providing plant engineers added flexibility for installing these pumps.
The new H(S)I series of pumps is ideal for applications in water distribution, water treatment, cooling water supply, boiler feed, and pressure boosting. All wetted parts are made of high-grade stainless steel.
The new pumps will be available in five sizes with different numbers of stages. The maximum flow rate is 26 m3/h and the maximum discharge head is 195 m. The fluid temperature lies between -20 °C and +140 ˚C. High efficiency IE5 motors can be supplied on request.