The Pico C Just Made at Home Brewing Easier
Siobhan Treacy | May 17, 2017
Bill and Jim Mitchell know what goes into a good home brew. Jim is a food chemist and physicist, and former CRM vice president with a passion for at home brewing. In 2012 Jim wanted to brew his own beer on a small scale, but he found that the home brewing processes available didn't offer him enough control over his brew. He joined forces with Bill, former Microsoft Corp Vice President, and Avi Geiger, former Microsoft hardware engineer, and principal architect, and created PicoBrew.
PicoBrew is an at home brewing company based in Seattle that offers a range of home brewing products, from brewers to personalized brew ingredients to brewing gear. The Pico C is PicoBrew's latest product, and it launched on Kickstarter in April 2017. It is a wifi enabled craft beer brewing appliance that allows anyone to brew personalized craft beer at home. The Pico C is a smaller, easier to use, more affordable version of PicoBrew's Pico Model S, which was their first at home brewer. The Pico C offers easy beer customization by allowing users to adjust the IBU and ABV while they are brewing.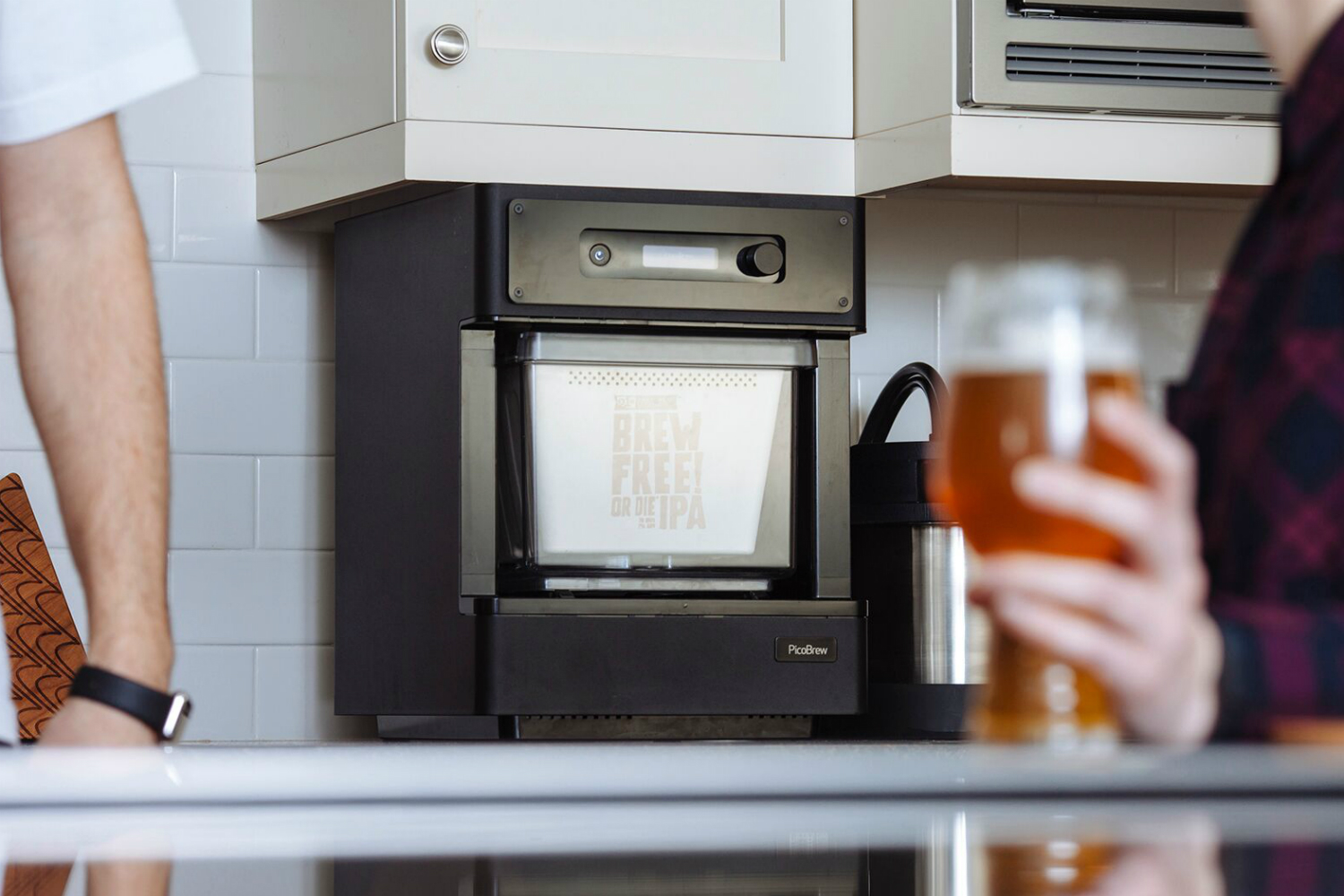 The PicoBrew's new model, the Pico C (PicoBrew)
A Pico C will cost $549 when it becomes a commercial product, but currently, backers are able to purchase the Pico C for $329. The product is estimated to be shipping out in November 2017 after the Kickstarter campaign ends on May 13th. The dimensions are 16"x 12"x 14", and it weighs 23 lbs.
PicoBrew invented the Pico S and the Pico C because Bill and Jim wanted to create an easy brewing system that even someone with no home brewing experience could use. The brewing process with the Pico C takes about two hours to brew and then a week to two weeks for the fermentation process. The Pico C produces 5L kegs or 14 8oz bottles of beer.
PicoBrew beer is completely customizable. A customer can go to the PicoBrew website, and customize their brew in a PicoPak. A PicoPak is a compostable grains-and-hops ingredient kit. Each kit comes with a customizable design to differentiate each brew mix. There are ten base, ten grain, six hops, and six dry hops options to choose from. The site saves the customer's brew on their account so they can easily reorder. PicoBrew only uses eco-friendly grains and hops from breweries around the world. If the customizable brew seems like too much work, there are plenty of pre-mixed PicoPaks, made from brewing companies around the world and PicoBrew's own mixes, to choose from.
The customer can reorder PicoPaks from their phone using the PicoBrew app, BrewPulse. BrewPulse allows customers to reorder their favorite PicoPaks, customize their own Pak, and even monitor their beer through the brewing process. This keeps the customer involved with each step of the brewing process.
All PicoBrew products use eco-friendly ingredients and an eco-friendly process. Transportation, containers and excess product used in large, traditional breweries result in a lot of pollution and waste. By brewing using the Pico C at home, the customer is able to compost the PicoPaks, use their own water, and eliminating waste on traditional beer packagings like glass or metal cans.
The Pico C also can make Kombucha. Kombucha is fermented tea, and it is a popular health drink. Some people call it the immortal drink. There is no alcohol in Kombucha. With Kombucha's rising popularity, PicoBrew has released KombuchaPaks, so customers can brew their own Kombucha at home. It takes approximately a week to brew and ferment Kombucha. The paks cost $14-$20, depending on the ingredients, and they can last, unopened, up to a year.
There are two new accessories the PicoBrew is releasing with the Pico C, the PicoStill and the SousVide adapter. The PicoStill is a distilling product that can be used to distill hop oil, water, and essential oils. It is being offered as a reward for higher level contributors on Kickstarter. The SousVide is an item that comes with every Pico C. This adapter allows the customer to use their Pico C for sous vide style of cooking. This form of cooking involves slow cooking the meat in a bag that is submerged in water and steam. These items are offered on the Pico C Kickstarter.
The Pico C has over 3,000 backers and has $1,189,083 pledged on Kickstarter. The original goal was to raise $350,000. Picobrew offers rewards for all levels of pledging, from a shoutout on a live stream and coaster for $1, to a 12-month BrewUnlimited membership, which offers unlimited PicoPaks and free shipping monthly or yearly.
To learn more about the Pico C brewer, visit the Kickstarter page here.