A student team from the University of Pennsylvania has come up with a prize-winning proposal to speed up the fermentation process in beer making by up to nine times. The method involves microfluidics and is industrially scalable.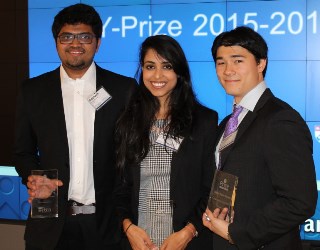 Fermento team prize winners, from left: Siddharth Shah, Shashwata Narain and Alexander David. Image source: University of Pennsylvania One of the biggest bottlenecks, so to speak, in beer making is the fermentation process in which yeast metabolically converts the sugar found in barley, hops and other ingredients into alcohol, or more precisely, ethyl alcohol, or ethanol. In breweries, this process typically occurs in large batch reactors where the brew is mixed with a measured amount of yeast. In all, the process can take up to three weeks.
The student team, calling themselves Fermento, proposed applying a microfluidic fabrication technology developed at Penn to speed up the process. The microfluidic approach accelerated the rate at which yeast converts sugar to alcohol by 70 percent by increasing the surface area of the liquid sugars exposed to the yeast. So what commonly takes three weeks in the conventional brewing process can now be accomplished in one week while maintaining alcohol quality and composition.
For their application innovation, the Fermento team, consisting of Alexander David from the School of Engineering and Applied Science, and Siddharth Shah and Shashwata Narain from the Wharton School, won first place and $10,000 in Penn's annual Y-Prize competition as well as rights to commercialize their use of the Penn-owned bioengineering medical technology.
The Y-Prize is a cross-disciplinary competition in which student teams propose innovative commercial applications for technologies invented by University of Pennsylvania researchers.