Video: The Supercar Vending Machine
Kevin J. Harrigan | May 23, 2017
Brick-and-mortar video rental stores have been largely usurped by DVD and Blu-ray rental kiosks.
Could these car-selling "vending machines" be the first salvo against the traditional automotive dealership?
Probably not, but it's still an amusing way to sell a car.
Autobahn Motors is a luxury and exotic car dealer based in Singapore, a wealthy nation with affluent residents that might want to spend money on high-end automobiles. However, as the nation with the third-highest population density, there isn't necessarily a lot of real estate in urban areas.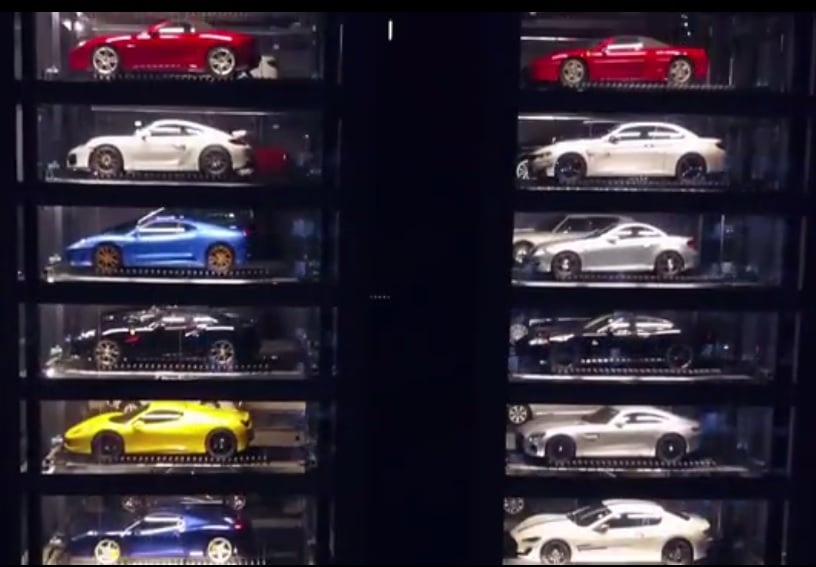 Image credit: Autobahn MotorsSo when the Hong family found a new location for their dealership showroom and offices, they needed to look vertically in order to fit a diverse inventory of cars on their property. To do so, the company installed a vertically-oriented automated vehicle storage and retrieval system. While similar systems have long been used for parking applications, this is the first example of it being used in a dealership.
Autobahn Motors markets its showroom as a luxury car vending machine in part because of the selection process. Customers are not brought into an office or cubicle to talk financials, but instead to browse Autobahn's vehicle selection from a comfortable viewing gallery with a tablet. On the tablet, they can review and examine vehicles, and with the touch of a button order the system to retrieve a car and bring it to the customer. Just as quickly, he or she can send a car back to the shelves and request to examine a different vehicle.
Autobahn specializes in pre-owned supercars such as Lamborghinis and Ferraris, opulent sports vehicles such as Porsches and Aston Martins, classic Rolls-Royces and Mercedes and, of course, the quintessential luxury SUV, the Land Rover. This exquisite vehicle selection coupled with the vending machine aesthetic results in a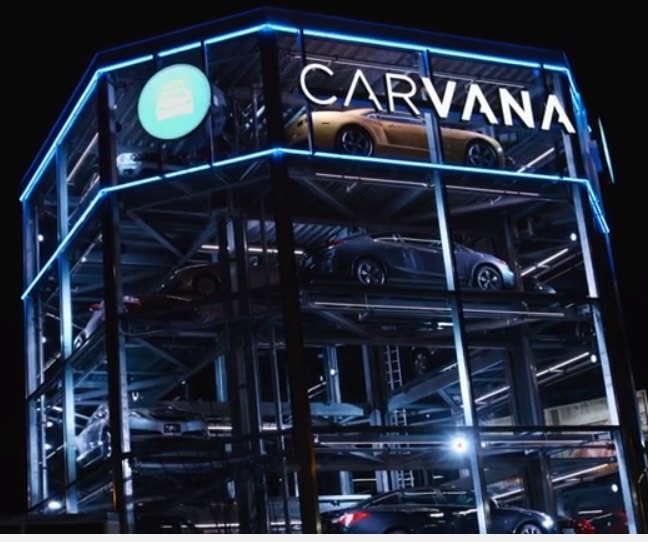 Image credit: Carvanadealership that looks like a carrying case full of Hot Wheels, not a full-fledged automobile store. In fact, that was precisely the motivation, according to a CNN interview with Gary Hong, general manager of Autobahn Motors.
The system allows the dealership to store 60-80 cars on a meager footprint that could otherwise fit only several vehicles. Autobahn also admits that being the "supercar vending machine" is part marketing device.
Autobahn Motors is not the first business marketing itself as the car vending machine. Retailer Carvana has a similar concept in the southwest United States, although the buying and procurement process is considerably different. Carvana customers pre-purchase their car online and the company stocks one of its five vending machines in Atlanta, GA, Nashville, TN, and San Antonio, Austin or Houston, TX, with the purchased vehicle. Customers then visit the vending machine and deposit a token to receive their car from the pick-and-place system. Carvana customers who don't live near the vending machine can have their car delivered or are given $200 toward airfare and car service to the Carvana facility. Carvana is also for every type of car and car buyer, not just those that attract the wealthy.