MES Rises as Automakers Embrace Flexibility
David Wagman | March 23, 2017
A 20-something tapping away on her laptop in a coffee shop is changing the way that automakers produce the car that she about to order.
It's increasingly common for consumers from Bangor to Bangalore to specify details of their dream vehicle online rather than kick the tires at a car dealership. Indeed, in China and India alone, an estimated 680 million "Gen Y" consumers plan to buy a car within five years.
Enabling digital-savvy consumers to customize their vehicle means that automakers increasingly are engineering their production facilities to be more flexible than ever before.
Assembly lines continue to exist, to be sure. But Henry Ford might be gobsmacked at how today's lines are more about customization than standardization.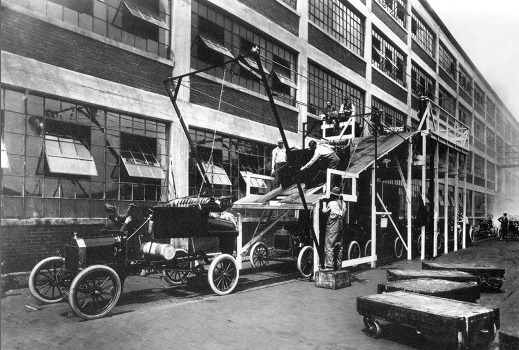 Henry Ford would still recognize the bones of his production line, but today it's more about customization than standardization, posing new challenges.Supporting the move to greater flexibility are a host of software tools, including those known as manufacturing execution systems (MES). These tools provide real-time data for analysis, and also help to make the production line's flexibility possible.
Broad Visibility
"An MES is like a drone that hovers on top and sees everything," says Vijay Rangarajan, a former auto assembly automation engineer and now sales executive with Rockwell Automation, a provider of MES technology.
In the hierarchy of process production controls, MES make decisions at a level above what a programmable logic controller (PLC) typically handles. At its simplest, MES takes a sequence of orders and manages decision making in a more efficient manner. In so doing, Rangarajan said that MES tackles the growing complexity that comes with flexible large-scale production.
Functions such as inventory management, performance analysis, design process, and supply chain management, which are time consuming when carried out manually, have been automated with the help of MES.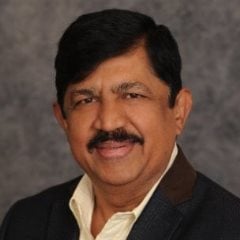 Vijay Rangarajan, Rockwell AutomationMultiple Models from One Plant
Consider Ford Motor, for example. The automaker is on track to increase its manufacturing flexibility globally, with the goal of producing on average four different models at each of its plants around the world.
In 2011, Ford completed a $550 million upgrade of its Michigan Assembly Plant in Wayne, Mich. The plant became the automaker's first facility capable of building an array of vehicles -– including gas-powered, electric, hybrid and plug-in hybrid -- all on the same production line.
The facility upgrade included reprogrammable tooling in the body shop, standardized equipment in the paint shop, and a common-build sequence in final assembly. The body shop improvement, for example, was aimed at ensuring that at least 80% of the robotic equipment can be programmed to weld different-sized vehicles.
At a macro level, an auto assembly plant is divided into a body shop, a paint shop, and final assembly, says Rangarajan, who early in his career helped design and install one of the industry's first robot in the paint shop at General Motors' Hamtramck, Mich., plant. Each stage of production includes a buffer zone where vehicles can be held and any errors in the manufacturing sequence can be corrected.
"The MES handles this because it know what has happened along the line," Rangarajan says.
Manufacturing execution systems deliver information that enables the optimization of production activities from order launch to finished goods. Using current and accurate data, MES guides, initiates, responds to and reports on plant activities as they occur. The resulting rapid response to changing conditions, coupled with a focus on reducing nonvalue-added activities, drives effective plant operations and processes. MES provides information about production activities across the enterprise and supply chain via bidirectional communications.
Although MES is typically used to operate as a self-contained system, they are being integrated with enterprise resource planning (ERP) software. The result, Rockwell Automation says, is visibility, control, and manufacturing optimization from order placing, production inception, and process control to product output.
Multiple Competitors
Rockwell Automation competes with a number of other companies to supply MES to process industries worldwide. Other players include ABB Ltd., Andea Solutions, Dassault Systemes SA, Emerson Electric Co., General Electric, Honeywell International Inc., SAP AG, Schneider Electric SE, Siemens AG, and Werum IT Solutions GmbH.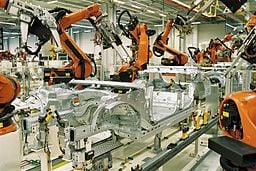 MES technology offers a high-level look at highly automated production lines. Credit: WikimediaSiemens, for example, worked with Volkswagen at its South African auto plant in Uitenhage. As with other carmakers, the Volkswagen facility offered what Siemens described as a "logistically intensive" production line. The automaker required visibility of plant floor operations in order to analyze trends in the production process and identify areas of inefficiency.
To integrate control and human machine interface (HMI) devices across different areas of the shop floor enables centralized data collection to provide real time production information across the shop floor, and aggregated, contextualized reporting to the office management level. This was achieved using Siemens SIMATIC IT, Simatic WinCC and Simatic S7. The technology enabled real-time information such as current throughput performance, running status and problem stations to be identified and to operators, team leaders, and maintenance staff. Downtime reports identify problem areas by showing equipment with the most downtimes as well as which types of downtimes occur most frequently, helping with maintenance scheduling.
Standards and Market Growth
Standards developed for MES include ISA 95. The standard is a multi-part effort that aims to define in detail an abstract model of the enterprise, including manufacturing control functions and business functions, and its information exchange. It also establishes common terminology to describe and understand the enterprise, including manufacturing control functions and business process functions, and information exchanges. The standard also defines electronic information exchange between the manufacturing control functions and other enterprise functions including data models and exchange definitions.
The MES market is expected to grow at a combined annual growth rate (CAGR) of 13.6% between 2016 and 2022 to reach $18.22 billion by 2022, according to research by marketsandmarkets.com. It says driving growth factors are relatively low deployment cost, increasing use of industrial automation, and importance of regulatory compliance.
MES has been widely adopted by the pharmaceutical industry, where process control regulation can be particularly strict, largely as a way to help fight counterfeiting as mandated by the U.S. Food and Drug Administration. Ranngarajan says that similar tagging is used in the automotive industry for safety related parts such as airbags and brake cylinders.
The research says the automotive industry is expected to account for the largest market share of the discrete industry of the MES market. Growing vehicle demand as well as efforts to lower production cost and increase productivity are some factors expected to drive the demand for manufacturing execution systems in the automotive industry are driving interest in MES systems.