LEGO Builds 100% Renewable Energy Base
S. Himmelstein | May 18, 2017
When it comes to energy use, Danish toy manufacturer LEGO Group is not playing around. After four years and a DKK 6 billion (€800 million, $888.9 million USD) investment in two offshore wind farms, the company has achieved its ambition to balance 100 percent of its energy use with energy from renewable sources – three years ahead of schedule.
Since 2012, the LEGO Group has supported the development of more than 160 megawatts of renewable energy since 2012, with its latest investment a 25 percent stake in the recently opened Burbo Bank Extension wind farm off the coast of Liverpool, UK.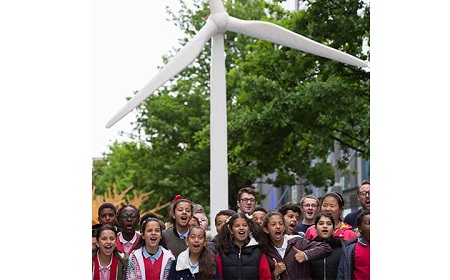 The largest LEGO brick wind turbine was built to celebrate the 100% renewables milestone. (Source: LEGO Group)The total output from these investments now exceeds the energy consumed at all LEGO factories, stores and offices globally. In 2016, more than 360 gigawatt hours of energy were used by the LEGO Group to produce the more than 75 billion LEGO bricks sold around the world during the year.
Reaching the 100 percent renewable milestone was a target inspired by a partnership with the World Wildlife Fund Climate Savers program. The LEGO Group works with other partners to advocate for investment in renewable energy and has joined the RE100, a global initiative of companies committed to using 100 percent renewable energy.
The company also plans to install 20,000 solar panels on the roof of the LEGO® factory in Jiaxing, China. The panels will produce almost 6 gigawatts of energy per year, equivalent to the electricity use of more than 6,000 Chinese households.
To celebrate its energy milestone, LEGO Group has built the largest ever LEGO® brick wind turbine, a Guinness World Records™ title. Built with 146,000 LEGO bricks, the wind turbine stands 7.5 meters tall and is a tribute to the record 200 meter tall wind turbines of the Burbo Bank Extension wind farm − the largest windmills now in operation.