Watch: Self-assembly of a New Hydrogen Fuel Cell Catalyst
S. Himmelstein | June 03, 2018
A cheap, self-assembling material designed at the University at Buffalo could offer a substitute for the pricey platinum used in fuel cells. The compound's constituents are simply added to a flask, stirred and heated, after which the Lego-like chemical building blocks merge to yield cofacial cobalt porphyrins.
Two flat cobalt porphyrin molecules are stacked on top of each other and linked by ruthenium "clips." The self-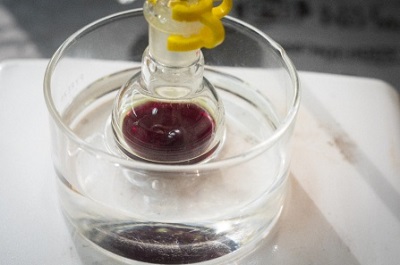 A round-bottom flask filled with cofacial cobalt porphyrin, a new catalyst for hydrogen fuel cells. Source: Douglas Levere/University at Buffaloassembly process was demonstrated to occur within two days.
The new catalyst performs as well as platinum in facilitating the oxygen reduction reaction required for hydrogen fuel cell operation. The process splits an oxygen molecule into two separate oxygen atoms that can then bind with hydrogen to form water and produce energy.
Scientists have long known that porphyrins have a great affinity for splitting oxygen: In the human body, iron-based versions of these molecules are responsible for helping to convert the oxygen we breathe into water, releasing energy in the process.
Self-assembly eliminates the costs and time-consuming nature of developing new catalytic materials. The researchers manufactured 79 g of cofacial cobalt porphyrins for every 100 g of starter material, vastly improving on the less than 1 percent yield that other labs have reported when synthesizing similar materials. The method also lent itself to easily swapping out and testing ruthenium clips of different lengths to fine tune the compound's electrochemical qualities with an eye toward designing an ideal catalyst.