Exoskeleton Boosts Leg Capacity in Soldiers
Peter Brown | May 16, 2017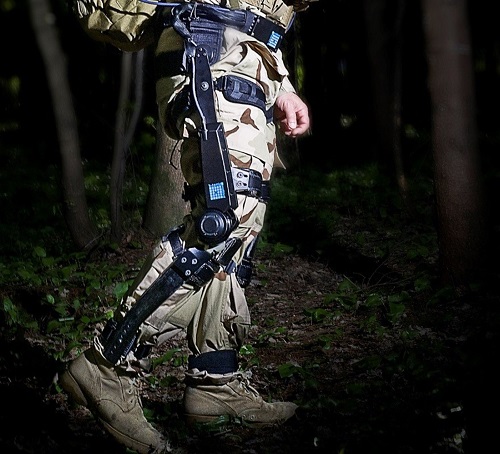 The FORTIS exoskeleton uses sensors to boost the load carrying capacity of soldiers performing strenuous tasks in the field. Image credit: Lockheed Martin
Lockheed Martin has introduced a new computer-controlled exoskeleton that counteracts the stress on the lower back and legs while increasing the mobility and load-carrying capability of soldiers.
Often during missions, soldiers are required to carry heavy equipment packs across long distances on stairs or over rough terrain. This enhances the stress, exhaustion and energy that comes along with an already challenging operational scenario.
The FORTIS Knee Stress Release Device (K-SRD) boosts the leg capacity for physically demanding tasks that require repetitive or continuous kneeling or squatting, or lifting, dragging, carrying or climbing with heavy loads.
Using licensed Dermoskeleton bionic augmentation technology, the K-SRD sensors report soldier's speed, direction and angle of movement to an on-board computer that drives electro-mechanical actuators at the knee. The suit boosts torque when a knee is flexed or extended to assist in carrying heavy loads.
Lockheed Martin says the exoskeleton features military-specific batteries approved for infantry use, improved control box ergonomics and actuators for more torque allowing for the reduction of energy needed to cross terrain, squat or kneel as well as ascend or descend stairs.
Versions of the exoskeleton are already available for the industrial market as well as first responders that perform difficult tasks and carry heavy loads.