Electrically-powered Blowout Preventers (eBOPs)
Shawn Martin | April 14, 2017
Noble Drilling Services, Inc. is now manufacturing the industry's first electrically-powered blowout preventer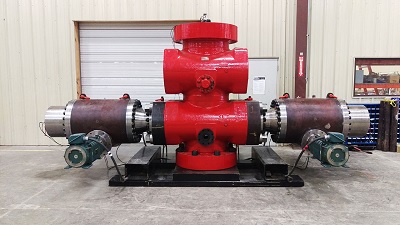 Image Credit: Noble Drilling Services, Inc.(eBOP). The device has fewer components than traditional hydraulic operated BOPs allowing for improved reliability, reduced maintenance and less interfaces.
The eBOP delivers 2 MM lbs. of force and is able to shear large diameter high-strength drill pipes. It is fully subsea capable down to 12,000 ft. below sea level, harnesses a self-braking drive train, and is environmentally friendly with no hydraulic lines that would otherwise be susceptible to leaks and contamination.
eBOP technology is even an economical alternative to hydraulic operated BOPs as it contains fewer parts, making it cheaper to manufacture. The technology is patent pending and Noble Drilling Services, Inc. is ready to unleash its potential to the oil and gas industry.