EnviroPump and Seal: Designed Not to Fail
March 10, 2017
Sponsored Content
Pumps are the hearts of process plants. And like hearts, when they fail, the process stops. Pumps wear, and they can fail in ways that can not only stop the process, but also cause hazardous accidents. There are four basic ways pumps fail: vibration, heat, poor environment, and installation errors. Enviropump and Seal's product lines are specifically designed to mitigate all these failure modes.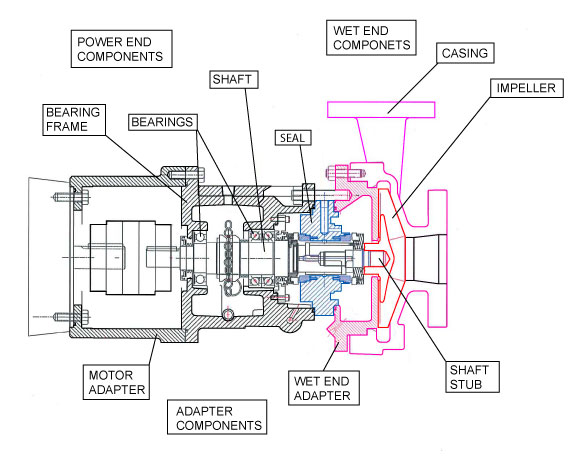 Figure 1. Pump designDesigned to Reduce Vibration
All rotating machinery vibrates. There's no way to eliminate vibration completely, but the typical vibration signature of the pump can be designed for. Excessive vibration is caused by pump shafts and motor shafts running out of true. This, in turn, can be due to wear caused by corrosion or excessive heat.
In figure 1, you can see the major parts of a pump: the power end and the wet end. The key maintenance requiring components are the motor, which produces vibration as it turns; the shaft and bearings, which can also contribute to vibration depending on their alignment and wear; and the impeller and its shaft, which also can contribute to vibration, as well as de-rating from the pump curve as a function of wear.
The entire assembly needs to be as true in alignment from motor to impeller as possible. Some pumps come with a baseplate that attempts to ensure proper alignment. If the components are not in alignment, wear and vibration will quickly ensue. EnviroPump models do not require the finicky alignment of many other pump designs. This is due to the centerline-mount casing and the C-frame adapter for coupling alignment.
In addition, EnviroPump and Seal models use a large diameter shaft made of 316 SS. The large diameter of the shaft makes it more stable and reduces vibration, while the shaft material provides high temperature and corrosion resistance. These large diameter stainless steel shafts are designed to last considerably longer than other designs.
Typical vibration levels with the EnviroPump and Seal VIT-500 and VIT-1,000 pumps are 0.02 in/sec to 0.04 in/sec, which compares very favorably to the ANSI allowable level of 9.25 in/sec.
Unique Coupling, Seal, and Bearing Designs
EnviroPump and Seal has created unique bearing and coupling designs. The VIT-500 and VIT-1,000 pumps have been designed with a duplex thrust bearing near the seal and impeller, and one radial bearing. This oversized high-capacity bearing combination produces the lowest L/D ratio that is available in a centrifugal pump and produces an MTBF that is more than twice the MTBF of conventional competitive designs.
EnviroPump and Seal provides both the power end and wet end of the assembly and provides a large selection of seals for both their own pumps and other manufacturers' pumps. These seals are either labyrinth seals or mechanical seals. The labyrinth seals are bearing isolators and are non-metallic and are designed to last the life of the bearings. EnviroPump and Seal also offers mechanical seals with "double-balanced" O-ring designs. These seals are available in single, duplex, and triplex configurations.
Designed to Minimize Wear from Heat
Heat is a serious issue with pumps. Excessive heat can cause warped shafts, material degradation, and warped housings and bearings. EnviroPump designs mitigate heat wear by having oversized bearings and an oil misting system that keeps the bearings cool.
Oil misting systems can reduce the temperature of bearings by 70o F. This is key to higher MTBF because bearing life increases 2,000 hours for every 10o F reduction in temperature.
EnviroPump designs can be made available with front and rear cooling jackets and barrier fluid ports. This is especially necessary when pumping an already hot medium such as hot oil heat transfer fluid, cooking oil, or hot water.
Designed to Minimize Wear from Lubrication Problems
Enviropump designed a rugged, ductile iron bearing frame, with cooling fins cast into the housing. This bearing frame holds the patented oil seal, oil bath, and oil misting system. Rather than an oil bath in which the bearings rotate, Enviropump continuously mists the shaft and bearings with oil at a constant rate to keep the bearings consistently cool. The large bearing chamber and seal chamber add to the stability of the entire assembly, reducing vibration and wear.
Designed to Handle Installation Errors
EnviroPump and Seal's optional C-Frame adapter eliminates the problem of motor alignment and baseplate leveling and ensures alignment of coupling. This reduces wear due to misalignment.
Typically, in a process plant, the available room around piping is small and installation space can be very tight. EnviroPump and Seal's designs, both in their new pump designs and in their retrofit and upgrade designs, permit the pump to be angled to ease strain on piping.
New Pump Designs
EnviroPump and Seal has produced new designs in stainless steel and duplex stainless steel, with PVDF (Kynar) lining optional. Slurry pumps and sanitary 3A models are also available. EnviroPump and Seal produces API 610 designs.
Unique Retrofit Designs
EnviroPump and Seal provides retrofit designs for most existing pumps, as well as retrofit seals for a wide variety of pump models and manufacturers.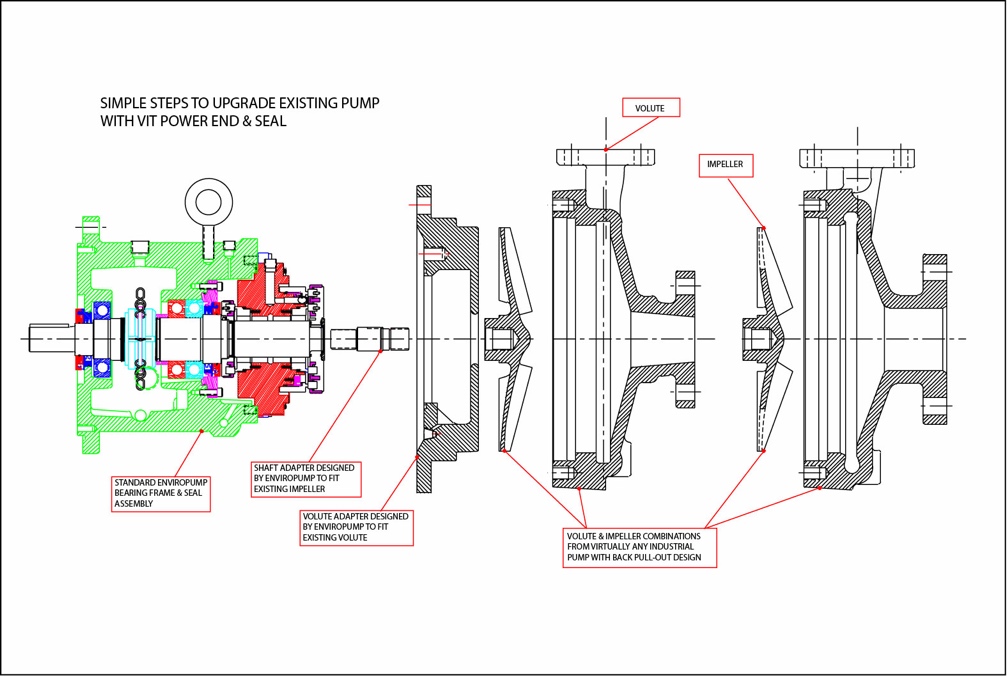 Figure 2. Retrofit and upgrade designs
EnviroPump and Seal can upgrade most existing pumps to the EnviroPump and Seal VIT Modular Power Frame Assembly. The pump can be either front pull out or back pull out. A significant advantage of this system is that the end user can retain the existing volute and impeller, which does not change the pump curve as designed.
This system, which is patented, permits the use of one standard frame, shaft, bearing set, and seal to fit nearly all ANSI, ISO, JIS, DIN, and API pumps. Many companies have standardized the VIT Modular Power Frame Assembly because it simplifies maintenance and rehab of a wide variety of pumps in the plant.
Photo of upgraded pump and motor combination—there's a good one on the website, but if there's a better one, that's what I'd use.
High-Value Warranty
When properly registered, EnviroPump and Seal offers a three-year warranty on VIT pumps. This warranty covers both new standard pumps and standard retrofits. There is also an extended 10-year warranty on pump shafts and a reduced price life value warranty on the replacement of seals.
Conclusion
Like all rotating machinery, pumps can fail. But they don't have to fail quickly, and they don't have to be designed for failure. Based on the technology of over 200 patents, EnviroPump's product lines are both a design engineer's and MRO supervisor's go-to pump design. They are designed not to fail.
EnviroPump and Seal, Inc.
4364 Winfred Dr, Marietta, GA 30066
(678) 324-4481