Antwerp Pilots City of Things Project
Engineering360 News Desk | January 12, 2017
The Leuven, Belgium-based research institution Imec is collaborating with the City of Antwerp and Flanders to launch the City of Things project. Antwerp will serve as a Living Lab in which businesses, researchers, and the city itself will experiment with smart technologies that target improved mobility, security, sustainability, and digital interaction with citizens.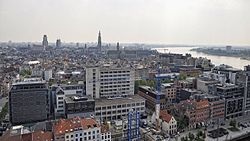 Smart technologies target improved mobility, security, sustainability, and digital interaction with citizens. Source: WikipediaA network of smart sensors and wireless gateways located around Antwerp's buildings, streets, squares, and other city objects will connect the citizens with a range of innovative applications (see video). The ensuing digital innovation is expected to enforce the city's economic clout, and with insights gained from the project, Antwerp and its businesses will learn how to collect the data they need to take well-informed decisions and develop innovative smart applications. The seaport of Antwerp will soon join the initiative, becoming an incubator for similar smart ideas.
The Antwerp Living Lab is designed to grow into the largest living lab in Europe for the Internet of Things, and already has a number of projects up and running. Vans are being operated by Bpost, the Belgian postal service, which have sensors to measure air quality throughout the city. Another project involving the company Restore is researching the effect of steering residential energy consumption and smoothing out usage spikes to balance the energy grid in real time. With the participation of network operator Orange, researchers are examining how the project's goals can be achieved using NarrowBand-IoT. This technology enables communication of small data volumes over extended periods at hard-to-reach places while ensuring that the batteries in connected devices can keep going for up to 10 years.