Micro-refinery to Prop Port Sustainability
S. Himmelstein | June 16, 2017
Every year, the global shipping fleet produces oil residues, or "slops," containing maritime hydrocarbon residues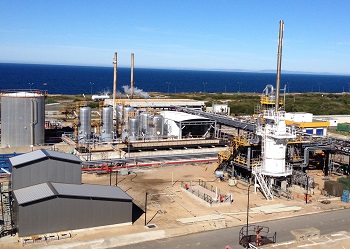 The Ecoslops micro-refinery in Port of Sinès, Portugal. (Source: Ecoslops) which accumulate at the bottom of ships' tanks. Discharge of these slops into the sea is prohibited by MARPOL international regulations, which stipulate that all slops must be discharged in ports.
Instead of incinerating slops – their usual fate – the residues can be sustainably upgraded into fuels [pdf] and light bitumen. Micro-refinery technology developed by Ecoslops, based in Antwerp, Belgium, will be showcased in a facility in the port of Antwerp.
The new unit at the site of ATPC, a subsidiary of VTTI group, will have a minimum capacity to treat 60,000 tons per year and should enable the regeneration of collected residues in the ARA zone (Amsterdam, Rotterdam, Antwerp) by local slops collectors. It will also provide ship-owners with a full traceability of their slops disposal, as well as sustaining the slops collection industry in the long term.
Ecoslops already has a fully operational micro-refinery in the Port of Sines (Portugal) and will soon build and operate another unit in Marseilles La Mède (with TOTAL).