Shore-based power planned for Dutch and Belgian ports
S. Himmelstein | October 19, 2020
Port authorities in Belgium and the Netherlands are partnering to establish a single shore-based power system for inland shipping and the river cruise industry. The provision of shore-based power for inland ports is expected to curb carbon dioxide, nitrogen oxide and particulate emissions associated with diesel-based energy systems operated on moored vessels.
The shore-based power supply is being planned by the Port of Rotterdam Authority, the Port of Amsterdam, North Sea Port Netherlands, Drechtsteden, the Port of Antwerp and De Vlaamse Waterweg.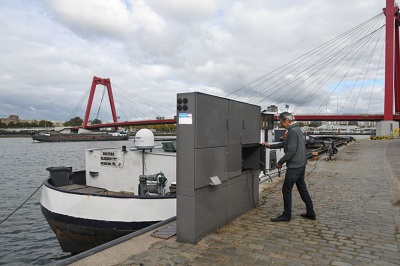 Source: Port of Rotterdam Authority N.V.
Separately, the Port of Rotterdam is working with the municipality of Rotterdam on the joint rollout of shore-based power for sea-going vessels in Rotterdam. Every year, vessels moored along Rotterdam's quays consume as much electric power as 250,000 to 300,000 households. Such consumption results in the release of 600,000 tons of CO2 and 8,000 tons of nitrogen. By 2030, the shore-based strategy could result in carbon savings of approximately 200,000 tons per year.
Project goals envision construction of new shore-based power capacity for ferries, offshore vessels and cruise liners with a utilization rate of 90% by 2030. Plans also call for a 50% adoption of shore-based power by large container vessels as of 2030.