Process Turns Wheat Flour into CO2-Capturing Micropores
John Simpson | October 19, 2016
Engineers have demonstrated how a process for the "carbonization" of wheat flour creates numerous tiny pores that can capture carbon dioxide, representing a renewable technology to potentially reduce the industrial emission of carbon dioxide into the atmosphere.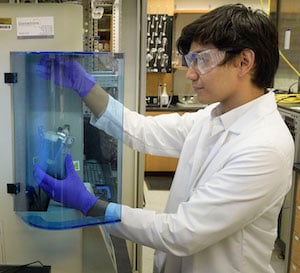 Purdue doctoral student Arthur Dysart operates a system that measures the adsorption of gas molecules on a solid carbon surface. Image credit: Purdue University/John Underwood.
Purdue University researchers led by Vilas Pol, associate professor in the university's School of Chemical Engineering and its School of Materials Engineering, developed a process that creates carbon "compartments" from wheat flour. Collaborating with researchers at Korea University, in Seoul, they studied carbon dioxide capture in these novel carbon compartments.
The researchers used the chemical compound potassium hydroxide to "activate"—or generate many small pores in—the wheat flour inside a furnace at 700 degrees Celsius. Varying the ratio of potassium hydroxide to carbon, they arrived at the formulation with the highest carbon dioxide adsorption capacity.
The results showed that carbon dioxide was adsorbed to the material's surface inside the micropores. The rate of carbon dioxide adsorption depended on the material's volume of micropores with a pore size of less than 0.8 nanometers. It was also demonstrated that the material could be rapidly used again to repeatedly capture carbon dioxide.
"The outstanding overall carbon dioxide adsorption performance indicates that potassium hydroxide-activated microporous carbon compartments can be a promising approach," says Ki Bong Lee, associate professor in the Department of Chemical and Biological Engineering at Korea University.
Future research will focus on work to adsorb larger quantities of carbon dioxide.