Evidence of Deep-Sea Animals Ingesting Microplastics
John Simpson | October 19, 2016
A team of scientists led by the University of Oxford has discovered evidence of the ingestion of microplastics by deep-sea animals.
Researchers working on the Royal Research Ship James Cook at two sites in the mid-Atlantic and south-west Indian Ocean found plastic microfibers inside hermit crabs, squat lobsters and sea cucumbers at depths of between 300m and 1,800m. The animals were collected using a remotely operated underwater vehicle.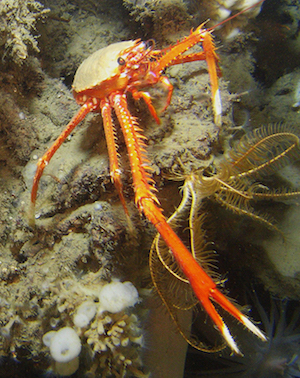 Microplastics have been ingested by squat lobsters, among other deep-sea creatures. Image credit: NOAA/Lophelia II 2008. Among the plastics found inside the deep-sea animals were polyester, nylon and acrylic. The researchers say that this is the first time microplastics—which can enter the sea via the washing of clothes made from synthetic fabrics—have been shown to be ingested by animals at such depth.
"What's particularly alarming is that these microplastics were found in the deep ocean, thousands of miles away from land-based sources of pollution," says Dr. Michelle Taylor, of Oxford University's Department of Zoology.
Microplastics are generally defined as particles of under 5mm in length and include the microfibers analyzed in this study as well as the microbeads used in cosmetics that will be the subject of a UK government ban as of the end of 2017. Microplastics are roughly the same size as "marine snow"—the shower of organic material that falls from upper waters to the deep ocean and which many deep-sea creatures feed upon.
"While we can't say for sure what the source of these microplastics is, it's possible they could have entered the ocean from synthetic clothing, carpet cleaning or fishing nets," Taylor says. "There has been no research into the potential effects on deep-sea creatures of ingesting plastics. But, given the impact on other animals, it's likely to be bad for their health and survival."