Exoskeleton Aids Children's Mobility
Engineering360 News Desk | June 21, 2016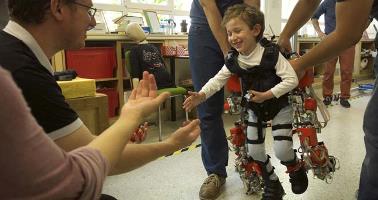 The exoskeleton is put through its paces. Photo: CSICExoskeletons are usually designed to provide some measure of mobility enhancement for adults and now researchers in Spain have recognized the need to engineer an infant exoskeleton for patients in the 3-14 year age range.
The 12-kg (26-lb) aluminum/titanium exoskeleton is designed for children suffering from spinal muscular atrophy (SMA), which affects one in 10,000 babies in Spain. Long support rods adjust to fit around the wearer's legs and torso as a series of five motors in the joints of each leg brace mimic human muscles and give the child the necessary strength to stand upright and walk – in some cases for the first time. The device includes sensors, a movement controller, and a battery with a five hour lifetime (see video).
The technology introduced by the Spanish National Research Council (CSIC) will also be used in physiotherapy in hospitals to prevent the secondary effects associated with degenerative illness, such as scoliosis and osteoporosis. The exoskeleton system is patented and licensed jointly by CSIC and its technology-based business unit, Marsi Bionics, and is currently in the pre-clinical phase.