Ozone Used to Sterilize Medical Implants
Engineering360 News Desk | May 10, 2016
Researchers have demonstrated the use of ozone gas as an inexpensive, effective and environmentally friendly way to sterilize medical implants without changing their physical or chemical properties.
Scientists from the University of Bath's Department of Pharmacy and Pharmacology and the University of São Paulo's Faculty of Pharmaceutical Science showed that ozone gas, obtained by passing electricity through oxygen, effectively sterilizes one of the most common types of polymer used in medical implants.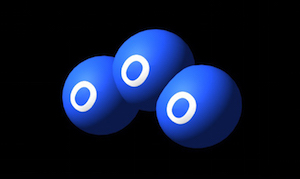 Ozone is able to kill viruses, bacteria and fungi, and its only by-product is atmospheric oxygen. Image credit: NASA.Polymer implants, such as screws, pins and stents, are commonly used in surgical treatments, and there is an increasing use of implantable polymers in fields such as drug delivery, regenerative medicine and tissue engineering. These materials must be sterile before use, but some methods of sterilization alter their physical or chemical properties, potentially reducing performance.
The researchers showed that exposing the implants to as few as two controlled pulses of ozone gas could sterilize the polymer polylactic-co-glycolic acid (PLGA), killing spores of the Geobacillus stearothermophilus bacteria, the most common biological indicator used for validation of sterilization processes.
Ozone treatment caused no changes in the PLGA and no loss of function, with cells still able to grow on the polymer scaffold, as they would in treatments. This method contrasts to others such as gamma and electron beam radiation, which are expensive and can damage the polymer. Other techniques also impart risks to the polymer due to the heat, pressure and toxicity involved.
Ozone is effective and environmentally friendly because it is able to kill viruses, bacteria and fungi, and its only by-product is atmospheric oxygen.
"Sterility is a critical attribute of implantable materials that needs to be met in order to be applied in vivo," says researcher Carolina Rediguieri, a PhD student at the University of São Paulo. "Our findings suggest that sterilization by ozone gas is very likely to work for other implantable polymers as well, especially other polyesters."