Watch: Wearable ozone patch treats chronic wounds
S. Himmelstein | September 08, 2020
The bactericidal properties of ozone gas are being increasingly tapped to treat chronic wounds in clinical settings. A more portable version of this technology engineered at Purdue University combines a breathable patch with a small, belt-worn battery powered ozone-generating device.
The disposable patch is composed of a synthetic Rayon-Spandex knit fabric selected for its high gas permeability and low cost. A coating of a diluted polydimethylsiloxane solution imparts hydrophobic properties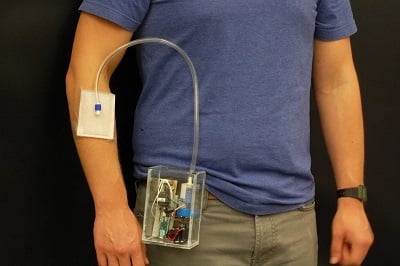 The wearable device offers an option for treating antibiotic-resistant infections and wounds. Source: Purdue Universityto the wound-touching surface, which encapsulates an intermediate flow dispersion layer assembled from low-cost woven polymer to create a gradient of pore sizes and provide consistent application of ozone across the wound. A small, low voltage commercial ozone generation system and attached micro-blower fan can be easily worn with the housing containing all of the necessary generation components and the patch attaches to the user with a medical adhesive.
Tests confirmed that the device design provides sufficient dispersion of ozone across the treatment area. Antimicrobial assessments showed the ozone delivered through the patch is effective in reducing or eliminating bacteria that often cause antibiotic resistant wound infections. Research results reported in Frontiers in Bioengineering and Biotechnology document the complete elimination of Pseudomonas aeruginsa and the significant reduction in the number of Staphylococcus epidermidis colonies after six hours of exposure.