"Sea Snake" Robots to Perform Underwater Maintenance
Engineering360 News Desk | May 04, 2016
Norwegian energy company Statoil and Kongsberg Maritime have signed an agreement with startup Eelume to accelerate development of a swimming robot that can reduce the costs related to subsea inspection, maintenance and repair operations at offshore oil platforms.
With its snake-like form, the slender and flexible body of the Eelume robot, which has been under development for 10 years, can gain entry to confined areas that are difficult to access with existing technologies. The idea is to let these robots perform inspection and light intervention jobs on the seabed, reducing the use of large and expensive vessels.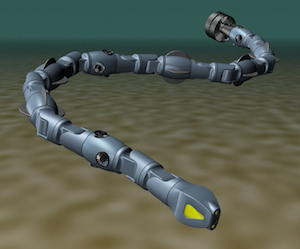 The snake robots can provide access to areas that are hard to access with existing technologies. Image credit: Statoil. "This partnership offers the chance to bring radical technology to the market, not just in what the Eelume robot can do, but how it does it," says Bjørn Jalving, executive vice president, Subsea Division, at Kongsberg Maritime. "It is a new tool that will enable operators to realize large-scale cost savings by introducing new ways of conducting routine tasks and helping prevent unscheduled shutdowns by reacting instantly when required."
According to Statoil, Eelume robots will be permanently installed on the seabed and will perform planned and on-demand inspections and interventions. The company says the solution will be utilized for both existing and new fields, where typical jobs might include visual inspection, cleaning and adjusting valves and chokes—chores that currently account for a large part of its total subsea inspection and intervention investment.