Part 2: The robots working on (and off) the offshore oil and gas platform
Marie Donlon | April 16, 2022
In part one of the robots working on (and off) the offshore oil and gas platform, Engineering360 looked specifically at the emergence of robots automating inspection tasks on and around oil and gas platforms. Part two will examine the decommissioning and repair tasks on and adjacent to oil and gas platforms that are now being automated.
Decommissioning tasks
To determine the impact of decommissioning oil and gas structures on surrounding marine ecosystems, researchers from Aberdeen University in Scotland have teamed up with ocean data company XOCEAN to autonomously survey fish populations off the northeast coast of Scotland using robots.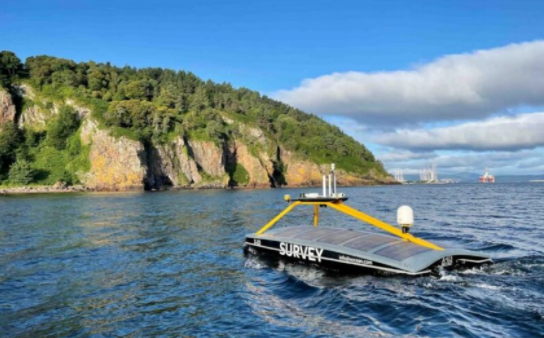 Source: Aberdeen University
As part of the Influence of Man-made Structures in the Ecosystem (INSITE) program, XOCEAN's uncrewed surface vessel (USV) used sonar to gather data on the number of fish in marine ecosystems surrounding decommissioned oil and gas platforms.
According to the researchers, the USVs feature sensors that collect and validate data in real-time and the boat can be controlled by operators located miles from the shore. The USVs are roughly the size of a standard car — which enables the autonomous vehicles to get closer to oil and gas structures than the traditional ships commonly used to conduct such research.
For more on the USVs, watch the accompanying video that appears courtesy of Aberdeen University.
Boaty McBoatface
To monitor decommissioned oil and gas fields or those nearing their end-of-life, the U.K. National Oceanography Centre (NOC) has launched autonomous robot submarines, led by the infamous Boaty McBoatface, to gather data.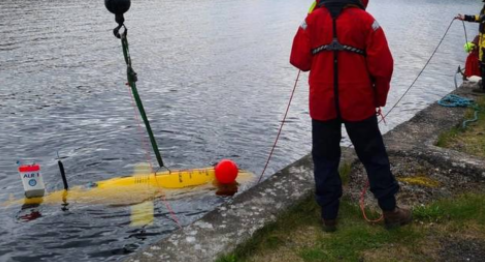 Source: NOC
As part of NOC's Autonomous Techniques for infraStructure Ecological Assessment (AT-SEA) project, the Autosub Long Range lithium battery-powered autonomous underwater vehicle (AUV) Boaty McBoatface will lead a fleet of three other robotic AUVs to three decommissioning sites located in the North Sea.
There, the autonomous robotic submarines will carry out data collection tasks typically conducted by teams aboard research ships. Instead, the autonomous submarines will photograph the seabed, mapping the seafloor, animals and structures therein to determine the long-term impact decommissioning has had on oil and gas fields' surroundings. Likewise, the robotic submarines will also measure water properties, looking at the presence of hydrocarbons, for instance, and will conduct leak detection, determining if there is a gas leak present or if one is likely to occur in the future.
Once the autonomous fleet returns, the collected data will be compared to data previously documented via manned research vessels.
With countless oil and gas fields nearing their end of life throughout the world's oceans, future decommissioning efforts and subsequent environmental monitoring will be necessary. Such monitoring carried out by autonomous fleets could potentially reduce the financial burden of manned research ships as well as the harmful emissions from these vessels.
3D-printed repairs
A Norwegian robotics company is incorporating 3D printing into its existing self-propelled robotic pipeline inspection and repair system.
The team at Kongsberg Ferrotech is attempting to outfit its Nautilus repair and inspection system with additive manufacturing capabilities, enabling it to repair defects and faults in oil and gas subsea pipelines on site.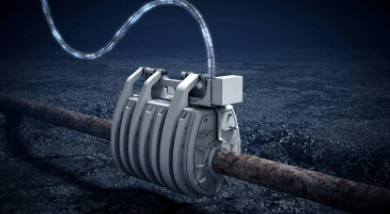 Source: Kongsberg
Working much like the system's composite repair capability, the Nautilus will locate defects in pipelines, landing on the defect and creating a dry controlled environment to inspect, analyze and perform repairs. Instead of replacing the portion of pipeline or cable in need of repair, the system will fix the defect at the site, thereby extending the lifetime of the pipeline.
According to the developers of the Nautilus, 3D printing can be used to build up a replacement component, layer by layer, incorporating different metals and complying with different design codes.
To see an earlier iteration of the Nautilus system, watch the accompanying video that appears courtesy of Kongsberg Ferrotech.
The Aquanaut
Norwegian undersea drone specialist Stinger Technology together with U.S.-based robotics firm Houston Mechatronics is bringing a subsea robot to Norway's offshore oil and gas industry.
The undersea robot, dubbed Aquanaut, is both a remotely operated vehicle (ROV) and an AUV, capable of transforming back and forth between both according to applications such as performing undersea inspections, repairs and maintenance.
In ROV mode, the Aquanaut can turn valves, operate subsea tools and scan underwater structures. In AUV mode, the robot can perform seabed mapping and conduct wide area structural inspections, even inspecting the underside of structures.
According to Houston Mechatronics, oil and gas customers in Norway could potentially see a 30% to 40% savings in operational costs with the undersea robot.
To see how the undersea robot transforms from ROV to AUV, watch the accompanying video that appears courtesy of Houston Mechatronics.
These are just a few examples of the robots taking over tasks once performed by human workers on oil and gas platforms. Check back with Engineering360 for their ongoing coverage of the latest technological innovations in the oil and gas sector.