Pilgrim Nuclear Plant to Close in 2019
By Engineering360 News Desk | April 18, 2016
Entergy Corporation says it will close its 680-megawatt Pilgrim Nuclear Power Station, located in Plymouth, Massachusetts, at the end of May 2019.
The company announced in October 2015 that it would shut the plant down "no later than June 1, 2019" because of poor market conditions, reduced revenues and increased operational costs. But it left open the possibility that it would close it sooner.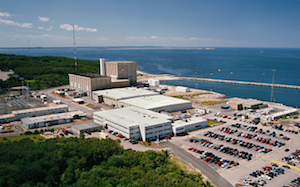 Pilgrim will undergo a final refueling outage in the spring of 2017 before closing two years later. Image credit: NRC.At the time, Entergy cited low prevailing and forecast wholesale energy prices—brought about by record low natural gas prices—as having "significantly" impacted Pilgrim's revenues. In particular, the utility said, the influx of shale gas had helped drive down power prices, resulting in $10 less per megawatt hour and an annual loss of more than $40 million in revenue for Pilgrim.
Entergy also noted at that time that it faced increased operational costs and enhanced Nuclear Regulatory Commission (NRC) oversight as a result of the agency finding issues of "low-to-moderate safety significance" involving the plant's safety relief valves.
The decision to remain in operation for another three years means that Pilgrim, which opened in 1972, will conduct a final refueling outage in the spring of 2017.
After its 2019 closing, Pilgrim will transition to decommissioning, starting with the development of a post-shutdown report describing planned decommissioning activities, a schedule, cost estimate and environmental impacts. That plan, due no later than two years after shutdown, is a public document sent to the NRC for review.
Entergy says it will also create a citizen's advisory/engagement panel to share information with the public about nuclear decommissioning.