Entergy to Close Another Nuclear Power Plant
Engineering360 News Desk | November 02, 2015
Entergy Corp. says it will close the single-unit, 838 MW James A. FitzPatrick Nuclear Power Plant in Scriba, New York, in late 2016 or early 2017. The company says its decision to close the plant, which has operated since 1975, is based on the continued deteriorating economics of the facility. The key drivers cited by the company include significantly reduced plant revenues due to low natural gas prices, a "poor market design that fails to properly compensate nuclear generators," as well as high operational costs.
Entergy announced in mid-October that it will close the 680 MW Pilgrim nuclear station in Massachusetts.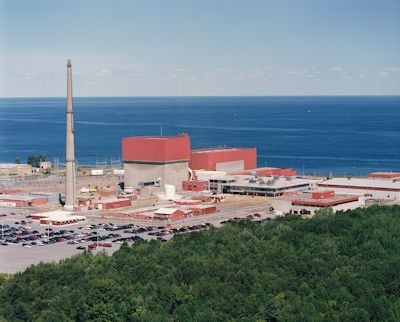 Entergy's decision to close the plant is based on "continued deteriorating economics." Source: Entergy.Entergy says it is reporting November 2 to the operator of the electric grid, the New York Independent System Operator, and to the New York State Public Service Commission that it will retire the plant at the end of the current fuel cycle.
"Given the financial challenges our merchant power plants face from sustained wholesale power price declines and other unfavorable market conditions, we have been assessing each asset," says Leo Denault, Entergy's chairman and CEO. The company previously announced the closure of the Pilgrim Nuclear Generating Station in Massachusetts.
Entergy says the decision to close the FitzPatrick plant was based on factors that make it no longer economically viable:
Sustained low current and long-term wholesale energy prices, driven by record low gas prices due to the plant's proximity to the Marcellus shale formation, have reduced the plant's revenues. Current and forecast power prices have fallen by about $10 per megawatt-hour, which equates to a projected annual loss of more than $60 million in revenues for FitzPatrick, the company says.
"Flawed market design" that fails to recognize or adequately compensate nuclear generators for their benefits. Thecompany says that FitzPatrick and other nuclear power generators provide a "key fuel diversity benefit with significant climate-related advantages."
The plant carries a high cost structure because it is a single unit. Entergy says it has invested hundreds of millions of dollars to improve FitzPatrick's reliability, safety and security. "While the company will always make investments needed to assure safe operations, it considers the long-term financial viability of operating plants in markets that ignore the benefits of nuclear power."
Locational constraints reduce the plant's revenues. The region has excess power supply and low demand, the company says.