Method Can Aid in Tracing Illicit Nuclear Material
Engineering360 News Desk | February 16, 2016
A method of nuclear forensics research that can determine the reactor origins of weapons-grade plutonium could give governments the ability to track the source of black-market nuclear materials, specifically plutonium.
"If somebody is smuggling plutonium to the United States and if it is confiscated, we need to [identify] who did this and we have to put together several pieces of this puzzle," says Sunil Chirayath, the project's principal investigator and interim director of the Nuclear Security and Science Policy Institute. "One of the pieces of the puzzle we specifically deal with is determining which type of nuclear reactor produced the confiscated plutonium."
In the neutron spectrum of nuclear reactors, Chirayath says that two extremes exist: thermal reactors and fast reactors, with some variants. Based on a number of variables, different reactor types leave different signatures in the plutonium that is created.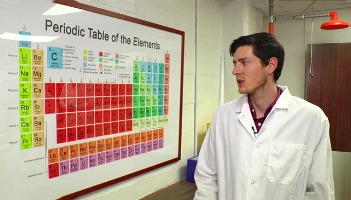 Different reactor types leave different signatures in the plutonium that is created from spent nuclear fuel. Image credit: TAMU."Some specific elements, when you separate plutonium, go with that plutonium as trace contaminants," Chirayath says. "When you touch something, you don't leave just your fingerprint behind; you leave some characteristics behind with that print that leaves an indelible mark."
The researchers use a radiochemistry process known as plutonium uranium redox extraction (PUREX) to separate the plutonium from the trace elements created from spent nuclear fuel. These trace contaminants that are attached to separated plutonium through the PUREX process are isotopes that are identifiable to investigators as indicative of specific reactor types.
"There are certain isotopes that we know as trace elements that point directly to specific reactor types," Chirayath says. For example, he says that Sm-150 is an isotope that is produced in a thermal reactor in a quantity 100 times greater than if this same isotope was produced in a fast reactor when normalized to plutonium production. "Even if we were to somehow mess up by 10-20% in our measurements, it's still a factor of 100, which means that if we find this isotope in abundance as a trace element, it leads to certain identification of a thermal reactor."
Once investigators determine what kind of reactor the material came from, the next step is to narrow down the different countries where those reactor types operate. Using this information, government agencies can attempt to determine where the material could have been produced and attempt to track how the plutonium was acquired and transported.