Metamaterials Make for a More Sensitive MRI Scan
Engineering360 News Desk | January 25, 2016
Researchers from Russia, Australia and the Netherlands have developed a technology that reduces magnetic resonance imaging (MRI) scanning times by more than 50 percent while enhancing image resolution. The advance enables hospitals to increase the number of scans without changing equipment.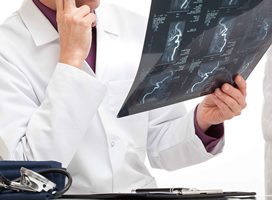 The advance may enable hospitals to increase the number of scans without changing equipment. A specially designed metamaterial is the key to boosting MRI sensitivity and efficiency. Placing the material under the studied object in an MRI scanner increases the signal-to-noise ratio in the scanned area. Scientists from ITMO University, Australian National University, Ioffe Physical-Technical Institute, University Medical Center Utrecht and Institute of Experimental Medicine RAMS demonstrated that a higher resolution image is obtained over the same time period, or a faster examination is performed with the same resolution as in an ordinary MRI scanner. In addition, the metamaterial suppresses the electric field, which is responsible for tissue heating—a phenomenon that may compromise the safety of the MRI procedure.

The solution does not require retrofitting any MRI hardware, as the researchers consider the technology to be an inexpensive functional add-on device that can be used with any existing MRI machine. This technology is currently being co-developed by MediWise, a UK-based company that specializes in commercializing metamaterials for medical applications.