Watch how metamaterials magnify MRI performance
S. Himmelstein | June 14, 2019
The powerful scanning capabilities of magnetic resonance imaging (MRI) make it a preferred and widely applied diagnostic tool. Efforts to increase the technology's signal-to-noise (SNR) ratio as a way to speed image acquisition time and further enhance scan clarity have proven economically prohibitive or biologically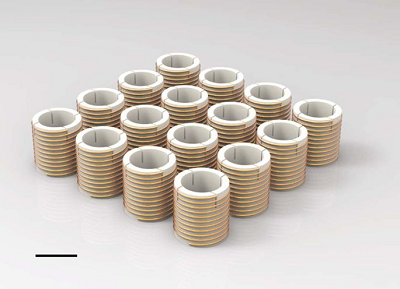 The metamaterial array composes unit cells featuring metallic helices, which are made of copper wiring with central polymeric scaffolding. Scale bar is 3 cm. Source: Boston Universityunsound due to elevated magnetic fields.
A metamaterial engineered at Boston University now offers a solution to overcome such cost and safety issues while improving the MRI SNR.
The magnetic metamaterial is formed by a series of 3 cm high helical resonators comprised of 3D-printed plastic and coils of thin copper wire. These devices can be grouped in a flexible array to cover any body part in need of imaging. When placed near the body, the resonators interact with the magnetic field of the machine, boosting the SNR of the MRI while generating scans faster and optimizing image quality.
MRI experiments were performed using a chicken leg, tomatoes and grapes to demonstrate the SNR enhancement capabilities of the magnetic metamaterial arrays. Tests conducted with a 1.5 Tesla machine demonstrated a 4.2-fold increase in the SNR, which could translate into the use of lower magnetic fields than currently deployed to take clearer images.
A research paper is published in Communications Physics.