Watch: FDA clears most powerful clinical MRI
S. Himmelstein | November 29, 2020
GE Healthcare has received U.S. Food and Drug Administration (FDA) clearance for SIGNA 7.0T, a 7-tesla MRI scanner developed for both research and clinical applications. The system is designed to address limitations of current MRI systems by using ultrahigh-field magnet technology that offers five times more power than most scanners.
The scanner features a 60 cm bore, which is particularly effective for neurodegenerative disease imaging and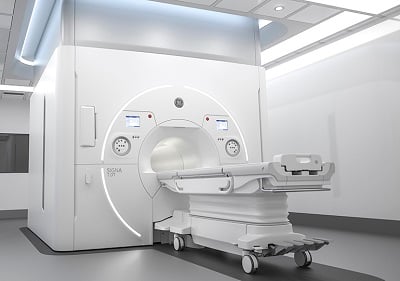 SIGNA 7.0T includes a magnet approximately five times more powerful than most clinical systems. Source: GE Healthcareextremities, as well as the company's UltraG gradient technology based on a whole-body gradient coil for enabling ultra-high field imaging speed and resolution. It also includes GE's SignaWorks applications platform with AIRx for automated slice positioning and GE's Silent Scan imaging technology. The system offers high resolution, speedier scans, advanced diffusion and functional MRI imaging of the brain.
Precision radio frequency transmit and receive architecture delivers improved image quality and enables development in parallel transmit. This system also provides a unique platform for advanced knee and cartilage imaging, allowing for ultra-high-resolution anatomical visualization as well as research capabilities to measure quantitative changes in anatomy due to disease.
SIGNA 7.0T can image anatomy, function, metabolism and microvasculature in the brain and joints with high resolution and detail, and it can support clinical applications from neurology to musculoskeletal imaging.