Phoenix Labeling e-commerce logistic solutions: VOLT770 full-electric carbon applicator
Engineering360 News Desk | March 01, 2023
Labeling packages is a crucial step in the logistics process of e-commerce. It involves identifying the contents of the package and ensuring that it reaches its intended destination. The process of labeling packages in an e-commerce logistics facility is a complex one, involving multiple steps and systems.
The first step in the labeling process is the creation of a shipping label. This label contains information such as the sender's address, the recipient's address and the tracking number. The tracking number is a unique identifier that allows the package to be tracked throughout the shipping process.
Once the shipping label has been created, it is printed and affixed to the package. This is typically done using an automated labeling system, which can handle large volumes of packages quickly and accurately. The labeling system uses a combination of barcodes and RFID tags to track the package as it moves through the logistics facility.

The perfect automated labeling systems solutions is VOLT770: a full-electric print and apply applicator made of carbon fibers and for this reason is light, safe and high performing. Typically requested for integration in the SLAM (Scan Label Apply Manifest) processes, where the use of compressed air is eliminated, this wipe-on applicator is adaptable to different heights and thanks to the electric stepper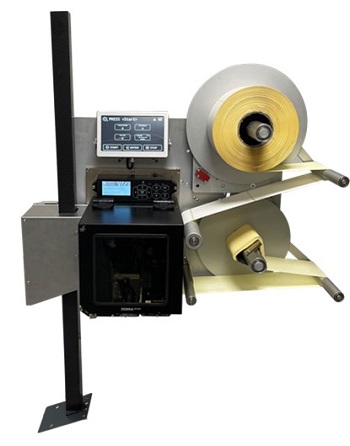 Source: Phoenix Labeling motors is extremely safe: no need for protective barriers.

After the package has been labeled, it is scanned and entered into the logistics system. This allows the package to be tracked and monitored at every stage of the shipping process. The logistics system can also provide real-time updates to the customer, allowing them to track the progress of their package and receive delivery notifications.

In addition to the shipping label, packages may also require additional labeling for customs purposes. For example, if the package is being shipped internationally, it may require a customs declaration form or a label indicating the contents of the package. These labels are typically generated automatically by the logistics system based on the information provided by the customer.

Overall, the process of labeling packages in an e-commerce logistics facility is highly automated and streamlined. By using advanced labeling systems and logistics software, e-commerce companies can ensure that packages are labeled accurately and efficiently, minimizing errors and delays in the shipping process. This, in turn, helps to improve customer satisfaction and build trust in the e-commerce brand.