Solar Panel Material Could Slash PV Costs
Engineering360 News Desk | January 20, 2016
Scientists at the Swiss Federal Institute of Technology in Lausanne (EPFL) have developed a solar panel material that they say can reduce the costs associated with manufacturing photovoltaics while achieving power-conversion efficiency of 20.2%.
Some of the most promising solar cells today use light-harvesting films made from perovskites—a group of materials that share a characteristic molecular structure. However, perovskite-based solar cells use expensive "hole-transporting" materials whose function is to move the positive charges that are generated when light hits the perovskite film.
To address this, a team of EPFL researchers led by Mohammad Nazeeruddin developed a molecularly engineered hole-transporting material, FDT, that costs one-fifth of those currently in use. Further, tests showed that the efficiency of FDT surpassed those of the two more expensive hole-transporting materials currently used for perovskite-based solar cells.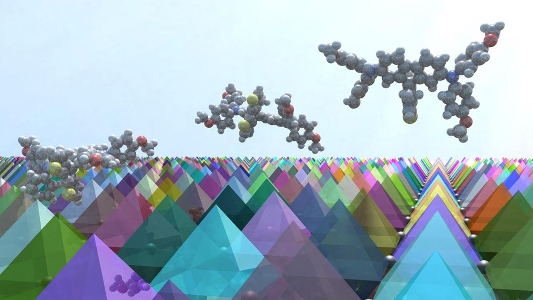 3D illustration of FDT molecules on a surface of perovskite crystals. Image credit: Sven M. Hein/EPFL."The best-performing perovskite solar cells use hole-transporting materials [that] are difficult to make and purify and are prohibitively expensive, preventing market penetration," says Nazeeruddin. "By comparison, FDT is easy to synthesize and purify."
Furthermore, because FDT can be easily modified, the researchers say it could act as a blueprint for an entire generation of new low-cost hole-transporting materials.