Waterproofing perovskite solar cells with graphite
S. Himmelstein | May 10, 2019
Perovskite represents a less expensive material for solar cell fabrication relative to silicon and can be used to easily print photovoltaic layers onto desired surfaces. Additional benefits of perovskite-based systems are that they perform well under low light conditions and produce higher voltages than silicon cells, which means they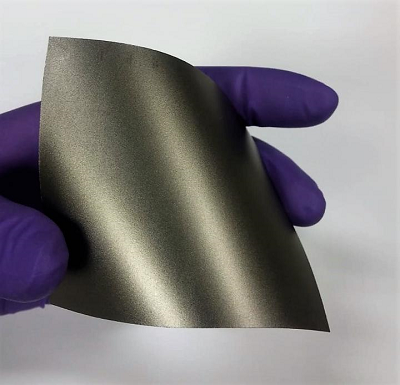 Graphite sheets were used to waterproof perovskite solar cells. Source: Isabella Poli/University of Bathcan be deployed indoors to power devices. However, their use for photoelectrochemical water splitting is limited as metal-halide perovskites are unstable in water. A new materials development by researchers from the University of Bath, U.K., and Swansea University, Wales, protects perovskite photoanodes for the production of solar hydrogen fuels.
A commercially available graphite sheet was combined with a 20-μm-thick mesoporous carbon layer to coat cesium lead bromide perovskite photoanodes. The treated solar cells were subsequently submerged in water and the harvested solar energy was used to split water into hydrogen and oxygen. The devices were documented to perform underwater for 30 hours, 10 hours longer than the previous record. A molecular iridium-based water oxidation catalyst embedded on the electrolyte-facing surface of the sealing graphite sheet was demonstrated to cathodically shift the onset potential of the composite photoanode due to accelerated charge transfer.
The design described in Nature Communications represents a promising method for using inexpensive, high performance and water-sensitive perovskite materials in integrated photoelectrochemical cells for solar energy conversion.