Liquid hydrogen system is compact and mobile
S. Himmelstein | January 18, 2023
A mobile end-to-end hydrogen liquefication and storage system has been engineered by hydrogen infrastructure technology developer GenH2 for a range of applications from transportation to energy backup. The LS20 Mobile Liquid Hydrogen System is also expected to be used as a lab setting for testing material, insulation, thermodynamic properties and use cases for varied applications.
The system can produce 2 kg to 20 kg of hydrogen per day, sufficient to provide access for hydrogen researchers and other users. A volume of 20 kg of liquid hydrogen contains nearly 2400 Megajoules of energy and can be readily stored and used within GenH2's ultralight utility tank systems.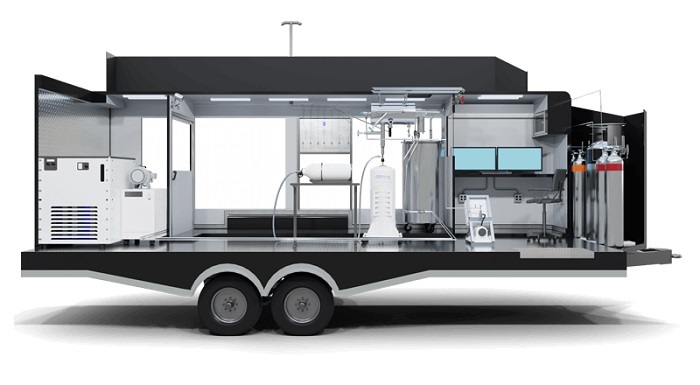 Source: GenH2
The compact, self-sustaining LS20 can operate independently with a portable generator or plug into a building's power source. This makes the system ideal for dispensing fuel to multi-purpose drones and providing an emergency power supply to first responders. As a complete system, the LS20 can liquefy, store and dispense liquid hydrogen from any gaseous hydrogen source, such as a storage tank or an electrolyzer.
These systems are equipped with U.S. Department of Transportation-approved 400 l capacity liquid hydrogen storage tanks with zero-boil-off storage feature, and a fully automated liquid hydrogen production/storage level control and monitoring system. A detachable liquid hydrogen storage tank enables separate liquid hydrogen transport; system safety is supported by hydrogen detection sensors, oxygen monitors and infrared hydrogen flame detectors.