Wind Farm Receives Final Go-Ahead
Engineering360 News Desk | February 16, 2016
DONG Energy has made a final decision to build the Hornsea Project One offshore wind farm in the UK, which with a capacity of 1,200 megawatts (MW) will be one of the world's largest offshore wind projects.
Hornsea will be almost double the size of DONG Energy's Walney Extension, which upon completion will have a capacity of 660 MW.
Hornsea is 120 km off the Yorkshire coast in the North Sea and will cover approximately 407 square kilometers. DONG has chosen the Siemens 7.0-MW wind turbine for the project.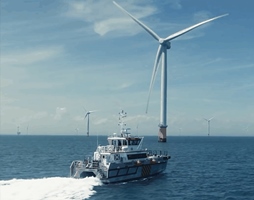 Hornsea is 120 km off the Yorkshire coast and will cover 407 square kilometers. Image credit: DONG Energy.The wind farm was granted a Final Investment Decision Enabling contract by the UK government in April 2014 and will receive a fixed tariff for the first 15 years of production.
DONG Energy is the sole owner having acquired the remaining two-thirds ownership share from joint-venture partner Smart Wind in February 2015. The company also has the project rights to Hornsea Project Two and Three, which have the potential for a further 3,000 MW of offshore wind power capacity in total.
Cumulatively, the three Hornsea projects form one of the world's biggest offshore development zones, covering more than 4,000 square kilometers.